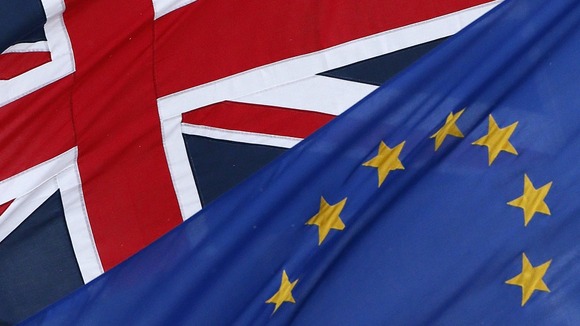 The Lib Dems and the Conservatives look set to clash over Europe, as David Cameron pledged to back a Conservative MP's bill to pave the way for a referendum on Britain's membership of the EU.
Conservative MP James Wharton came top of the annual ballot for Private Member's Bills and will put forward legislation drafted by the Conservative Party leadership which would require a national referendum by the end of 2017 on the question: "Do you think that the United Kingdom should remain a member of the European Union?"
Business Secretary Vince Cable branded such a move as untimely, unhelpful and potentially damaging to the country, as deputy Political Editor Chris Ship reports.
David Cameroon said he was "very happy" about the EU referendum draft legislation and will give it the Conservative party's "full backing," pledging to do "everything we can" to bring the bill to a vote, including by imposing a three-line whip on Tory MPs.
Read: Cameron 'very happy' on EU referendum draft bill
The whipping arrangements could mean than any Tory ministers who fail to vote for the referendum will face the sack.
Liberal Democrats are refusing to allow government time to be used on the legislation.
Business Secretary Vince Cable said the bill could do "serious damage" to the UK economy by creating uncertainty among potential international investors. Speaking to ITV News he said:
The problem is that if we are going to exit the EU there is massive uncertainty. [...] It is very very untimely. It is an old argument, you know they have been banging on about it for twenty years. This is just reopening a Pandora's box which potentially is not only damaging to them as a party, but is damaging to the country.
Watch: EU referendum bill 'damaging to the country' says Business Secretary
Mr Wharton, who at 29 is the youngest Conservative MP, said that it was "about time that this issue was tackled head-on in Parliament".
Watch: Europe issue 'needs to be resolved' says James Wharton MP
Wharton said he hoped to receive cross-party support for the bill.
I will be bringing forward a Bill to give people a say on our membership and hope that MPs from across the political divide will support me.

Like many people I am not old enough to have had a say when the original 1975 referendum took place. I think it is time for people to have their say again and I am delighted to get the opportunity to bring forward this important Bill.