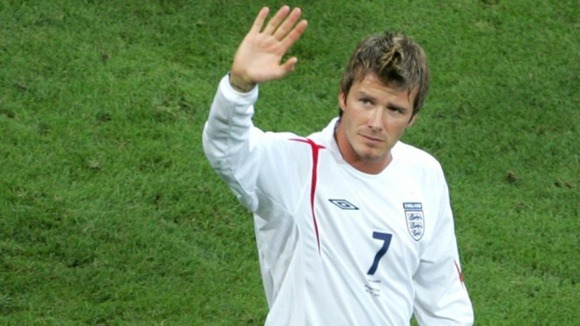 Former England captain David Beckham announced today that he will retire from football at the end of the season.
The Paris Saint-Germain midfielder said he felt it was "the right time" to end his career after helping the French club to the Ligue 1 championship earlier this week.
Beckham's last trophy made him the first English player to win league titles in four countries, following triumphs in Spain, the USA and six times in England with Manchester United.
The former national team skipper won 115 England caps, more than any outfield player in history, and also won the Champions League with United in 1999.
In an interview with his former Man Utd team-mate Gary Neville, Beckham said he had always "wanted to go out at the top":
Tributes flooded in for Beckham from around the world of football, with fellow England great Gary Lineker hailing him as "a global superstar":
David Beckham has retired. A wonderful player, global superstar and a magnificent ambassador for England and football.
David Beckham-what an unbelievable career-4 titles in 4 countries over 100 caps for eng and the best ambassador this countries has had!
FIFA President Sepp Blatter called Beckham an "iconic figure", while former Olympic Minister Tessa Jowell hailed his role in London's successful bid for the 2012 Olympic Games:
David Beckham, one of the most iconic figures in global football is retiring from playing. It's the end of a chapter of an amazing story.
.@lbc973 we owe David a huge debt, great footballer & great Olympic ambassador. Memories of Flame arriving @ Culdrose http://t.co/i7ZMYvfGkV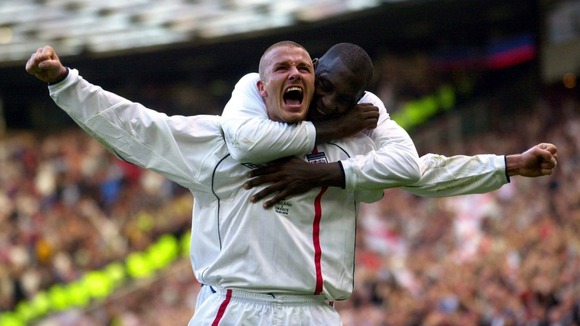 Read: David Beckham's magic moments
England manager Roy Hodgson said he hopes Beckham stays in football after retirement:
David is a man with many talents and a lot of people will now be offering him different jobs, different roles, some of which could take him away from football, but I'm rather hoping we will be able to keep him in football.

We could benefit from his experience, we could benefit from his charisma, and benefit from the magnificent past he has had as a football player.
Manchester United, the club for whom Beckham made 394 appearances, thanked the player "for the memories":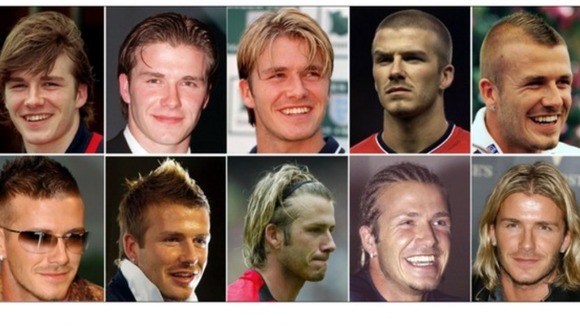 Read: Comb it like Beckham - a look back at Becks' haircuts
Beckham made 718 professional appearances in the domestic game, winning 14 pieces of major silverware in his career:
Six Premier League titles (Man Utd)
Two FA Cups (Man Utd)
One Champions League (Man Utd)
One La Liga title (Real Madrid)
One Spanish Supercup (Real Madrid)
Two MLS Cups (LA Galaxy)
One Ligue 1 title (Paris Saint-Germain)
His free-kick against Greece in 2001 was voted England fans' favourite goal of all time earlier this year:
Downing Street said the footballer was a "brilliant ambassador" for the country:
The Prime Minister's view is that David Beckham has been an outstanding footballer throughout his career but not only that he has been a brilliant ambassador for this country, not least if we remember all the work he did on helping us win London 2012.

The Prime Minister's message would simply be to say: congratulations on a fantastic career.
The owner of Paris Saint-Germain said he hopes David Beckham will still have a role to play at the club after his retirement.
PSG President Nasser Al-Khelaifi said: "We are discussing the possibilities to keep working together at Paris Saint-Germain."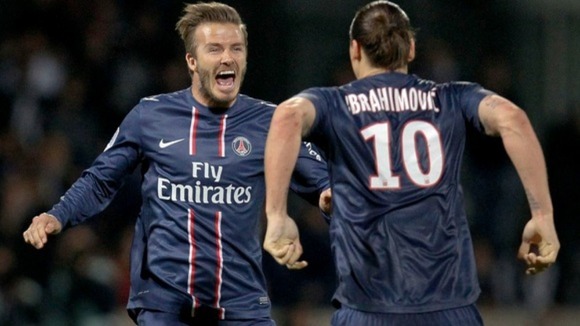 Beckham's wife Victoria said the couple were now "excited about the next chapter in our lives":
The children and I are so proud of David, it's been an incredible journey for us all as we have watched him play at clubs all over the world throughout the last 15 years.

This was not an easy decision to make, and to me and the children he will always be an amazing sportsman and a devoted husband and father.

We are all excited about the next chapter in our lives and the adventures we will explore as a family.
– Victoria Beckham