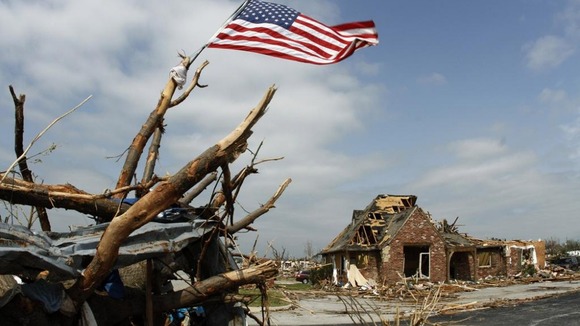 On Monday a tornado ripped through the suburbs of Oklahoma bringing winds of over 200mph and killing 24 people making it one of the most destructive tornadoes in American history.
Incredibly this is the 4th major twister to hit this town in just 15 years.
Oklahoma is part of what's dubbed Tornado Alley, and people there are used to these deadly storms. But what causes them, how are they tracked, and can residents ever be really safe when those winds hit?
Mike Bettes is a meteorologist from The Weather Channel who regularly follows tornadoes.
With the help of the team of ITV News correspondents who've been dispatched to the Tornado Zone, Tonight tell the story of the sheer power of tornadoes: Of how mother nature at her most deadly and destructive can simply make a town disappear.
Pictures: Tragic before and after pictures in Oklahoma
ITV News Anchor Alastair Stewart was in Moore and witnessed the destructive force of the tornado.
The logistics of the tornado are quite extraordinary it struck at 2.45 on Monday, it ran for just over 17 miles, leaving this kind of wreckage and debris behind and tree plucked up, and metal like this wrapped around trees, it was only 1.3 miles wide and it was all over in 45mins.
Read: A tornado is like a stiletto - a short, sharp blow, writes Alastair Stewart
Two primary schools were flattened in the storms as well as whole streets. Tonight has been finding out how families are picking up the shattered pieces of their lives.
ITV News' Emma Murphy met survivors and families who had lost their homes and livelihoods.
The resilience of the people of Moore is incredible to see, they are out and about from early in the morning picking through the debris trying to see what they can find from their homes and those of their families.
So what makes people live in an area that is at risk of tornadoes year on year? And why are people so keen to track and follow them?
Tonight goes on the road with storm chaser Chris McBee who watched the tornado touchdown and the make its way to Moore. He describes the scene:
We saw that this one had come up on the radar we came up to this location because it was just to the north-west here, over my shoulder and we knew the circulation was right there. And lone behold there was the tornado, it touched down, just like a funnel, it touched down and got larger and larger as it went until Moore just North of here felt it's full effects.
This tornado was the last thing he wanted to see so close to a city.
Tornadoes - Deadly Force: Tonight on ITV1 AT 19:30pm.