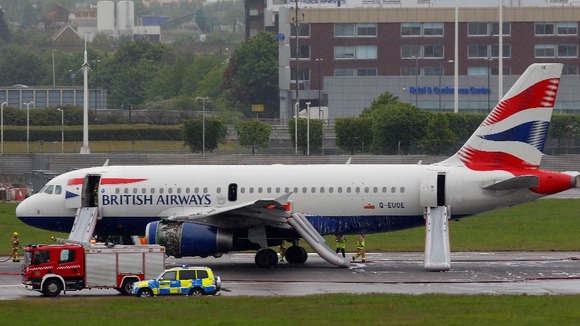 A British Airways aircraft was forced to make an emergency landing this morning after one of its engines caught fire and the cowling blew-off the other.
The Airbus AS19 landed safely with the 75 passengers and five crew were evacuated down emergency shoots. Three crew members were treated for minor injuries. ITV News Reporter Rupert Evelyn reports.
Passengers on board captured dramatic footage of the open left-side jet engine and subsequent emergency landing.
193 flights from Heathrow were cancelled due to the incident, and there were severe delays on flights into the evening.
BA had been expecting today to be the busiest of the bank holiday period with 128,000 passengers due to travel. The airline had planned to carry more than 430,000 customers over the next few days, with 116,000 due to return on bank holiday Monday.
Read: 193 Heathrow flights cancelled
British Airways said it has launched a "full investigation" into the emergency landing.
Customers and crew onboard a British Airways aircraft that returned to Heathrow this morning are safe and well after being evacuated from the aircraft.

Flight BA762 departed Heathrow at 8.16am and returned to Heathrow at 8.43am due to an engine technical fault.

The Airbus A319 aircraft was carrying 75 customers and five crew.

The aircraft landed safely and cabin crew evacuated customers using emergency slides.

The airline has begun a full investigation into the incident and is working with the Air Accident Investigation Bureau to establish the cause.
The delays forced some of the acts due to perform at Radio 1's Big Weekend in Derry to pull-out.