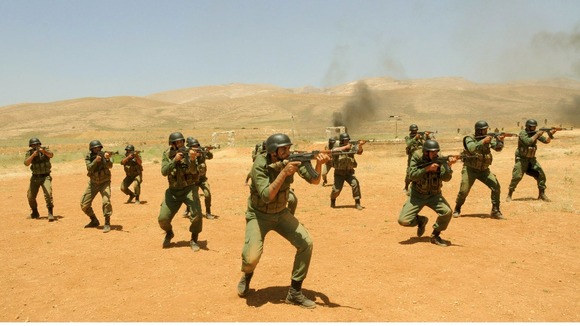 Fierce fighting has been taking place for a twelfth day in and around the town of Al Quseir in Syria. Rebels hold it at the moment but they are under constant bombardment from Government forces.
Both sides want to hold it.
For the Government the town connects Damascus with the Mediterranean. For the rebels it's a key point in the supply line between Lebanon and the key city of Homs, the third biggest in the country.
Dozens have died there already.
It's the first battle involving dozens of fighters from the Lebanese group Hezbollah, which is fighting on the side of President Assad.
We have been speaking by phone with a few people inside Al Quseir.
Here's what they say.
The first witness is Abu Al Huda Al Homsi. He is part of the rebel Co-ordinating Committee.
He says:
Al Quseir is totally surrounded from all sides. The army is shelling us from military planes. There have been five raids today.

Hezbollah fighters from Lebanon are firing rockets from the areas they have managed to take over, mostly on the western side.

We are very aware of the presence and involvement of Hezbollah because most conversations we are catching on walkie talkies are of people speaking with Lebanese accents.

Some of the dead bodies recovered by our fighters after clashes have been those of Hezbollah fighters.

The rebels are fighting with all they have but they have very little. All of the hospitals, in particular the main hospital in Quseir, have been destroyed.

Doctors are doing the best they can operating from makeshift hospitals in residential homes and bunkers. They are trying to treat about 800 wounded people at the moment.
A doctor in the town explains the problems they face. He says "we are at war with Hezbollah".
But we have no stitching materials, no special glue used to connect severed veins.

Cotton will run out in 10 days time, plasters in three. We are running out of X-ray film. We take about 150 X-rays a day.

We have abandoned a lot of the modern medical practices and rules.

For example, we are always running out of blood so people are donating blood every 25 days when you should not donate blood more often than three times a year.

They have to boil water to sterilise syringes.
Another doctor says his last oxygen bottle is now gone. He says they have appealed to everyone, to the Red Cross and the Red Crescent but he claims no one is interested.
The battle won't be over soon. Both sides are dug in. More casualties are inevitable. The fighting there was even on the lips of the Syrian Opposition as they rejected calls to join a peace conference, slated for Geneva next month. The slaughter in Quseir, they claimed, made the idea of negotiating with President Asad's men impossible.