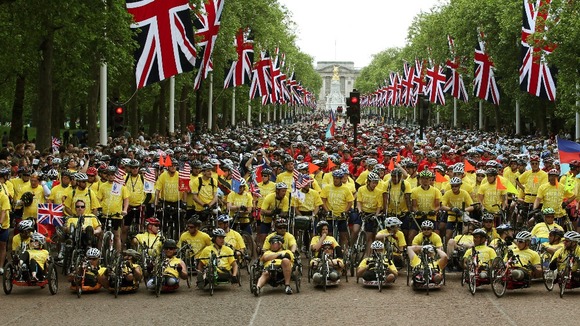 More than 1,300 cyclists took to the streets of central London today in aid of the armed forces charity Help for Heroes.
Hundreds of organised bike rides from around the country met in Blackheath, southeast London, to take part in the Hero Ride, which finished at Horse Guards Parade.
ITV News reporter Piers Hopkirk reports:
Some 300 fundraisers arrived from Paris, having set off from the French capital with the support of the Duchess of Cornwall on Tuesday.
A Dawn Raid challenge involved 250 cyclists leaving the Tedworth House Recovery Centre in Tidworth, Wiltshire, at 2am today to embark on a 90-mile journey to London.
Over 150 wounded veterans and service personnel paused to pay their respects at the Monument to the Women of the Second World War before riding in formation along The Mall.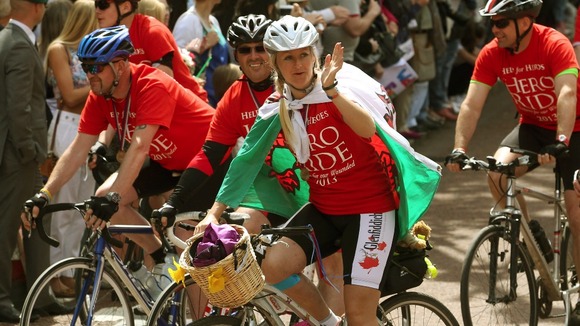 The event is expected to raise around £1 million for Help for Heroes, which will provide support for those who have suffered injuries in recent conflicts, as well as their families.
Singer James Blunt took part in the challenge, while road cyclist Mark Cavendish and his model fiancee Peta Todd - both patrons of the charity - gave their support to the participants as they completed their rides.
Blunt, who was an officer in the Life Guards and served in Kosovo before beginning his music career, said, "For me the most inspiring thing was seeing at the very front of the peloton a group of our wounded soldiers".
Cavendish told ITV News the support for today's Hero Ride through London was "pretty special" and "humbling":
Help for Heroes thanked everyone for coming and supporting the event:
A huge thankyou to everyone who came down today to cheer them on! What a day! Smiles all round! #heroride see you next year!
#heroride Fact: With all the miles added together they will have cycled the length of England 350 times!
#heroride Fact: We had 349 female and 985 male participants taking part today, 26 are children and 1309 are adults.