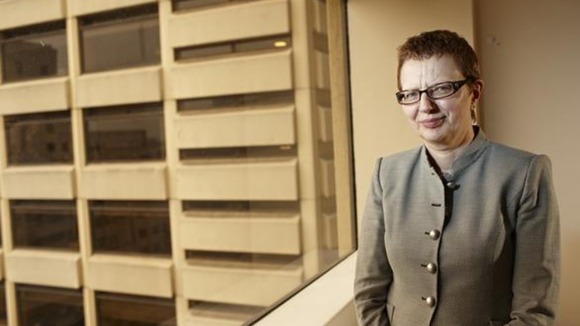 Former Care Quality Commission chief executive Cynthia Bower and her deputy, at the time, Jill Finney were among those who allegedly covered up its failure to investigate mother and baby deaths at a maternity unit in Cumbria, the organisation revealed today.
In a letter to Health Secretary Jeremy Hunt, the CQC revealed four four members of staff present when the discussion about the deletion occurred. They were:
Read: Profile: Former CQC chief executive Cynthia Bower
Former Care Quality Commission chief executive Cynthia Bower
Her former deputy Jill Finney
Media manager Anna Jefferson
Head of Regulatory Risk and Quality Louise Dineley
The watchdog is facing claims its staff ordered the destruction of evidence in a report which was critical of the regulator's failure to prevent deaths of mothers and babies at a Morecambe Bay NHS Trust.
Health Secretary Jeremy Hunt welcomed the names of the accused individuals being made public:
Pleased to receive CQC letter naming the individuals involved. Clear sign NHS is changing. We must have accountability throughout the system
Cynthia Bower resigned today from her current position on the board of Skills for Health, it has been confirmed. She said she has no recollection of an instruction being given to delete the regulator's inquiry into the University Hospitals of Morecambe Bay and says the report was never deleted.
Deputy political editor Chris Ship reports:
As chief Executive of CQC the buck stops with me so I deeply regret any failing in the regulation of UHMB during my time in charge and any distress this has caused to relatives, and in particular the family of baby T. We took steps to change our processes when these failing were identified and, although lessons were learned, I am not complacent and have no doubt that there is further room for improvement in the regulatory process.
As to the finding that there may have been a cover up of a negative report; I gave no instruction to delete any such report. I have no note or recollection of such instruction being given. Had I heard any such instruction I would have countermanded it. The report was, in fact, never deleted and indeed a copy was provided to Grant Thornton.
– Former CQC chief executive Cynthia Bower

Care Quality Commission media manager Anna Jefferson, who has been implicated in the watchdog's cover-up scandal, today said: "I would never have conspired to cover up anything."

One of the sixteen babies at the centre of the Morecambe Bay NHS Trust 'cover-up' was Alex Brady. He was stillborn. His parents say that if the failures at the maternity unit had not been hidden then at least other babies' lives could have been saved.

ITV special correspondent Rageh Omaar reports: