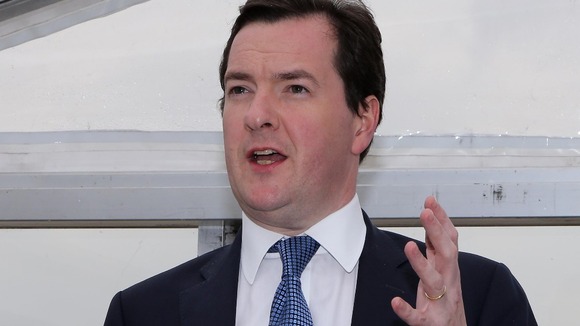 Chancellor George Osborne confirmed there will be further job losses at the Ministry of Defence (MoD) under a budget deal that has been agreed with the Defence Secretary.
Philip Hammond and Mr Osborne agreed the deal - which will not involve any further reductions in military manpower - last night as negotiations continued across Whitehall ahead of Wednesday's spending review.
Mr Osborne refused to commit to protect universal pensioner payments such as winter fuel allowance in the review, which covers 2015/16 beyond the end of the current Parliament.
ITV News political correspondent Libby Wiener reports:
Talks were still continuing to reach agreement with other ministries, including Vince Cable's Business Department, and Mr Osborne acknowledged there were still arguments about the "small details" with his Liberal Democrat Cabinet colleague.
The Chancellor told BBC1's Andrew Marr Show that he had finalised a settlement with the MoD and also confirmed plans to use fines from the banks to help support the welfare of troops and veterans.
It's going to involve some tough choices. The civilian headcount is going to have to reduce in our defence department, we are going to have to renegotiate, with some of our big suppliers, the contracts.

But I can tell you there will not be a reduction in our military capability, we are not going to reduce the number of our sailors, soldiers and airmen.

In fact we are going to be able to spend some more money on things like cyber, which is the new frontier in defence.
– Chancellor George Osborne on the Andrew Marr show

He said Mr Cable's Business, Innovation and Skills was one of the departments yet to agree a settlement. But he added, "There is actually not a massive argument".

Labour has said it would take winter fuel payments from the richest pensioners, but David Cameron made a pledge at the General Election to protect the handouts.

Mr Osborne said that commitment applied to this Parliament without committing to funding pensioner benefits beyond the 2015 poll, acknowledging, "We have got to look at how we can afford them".