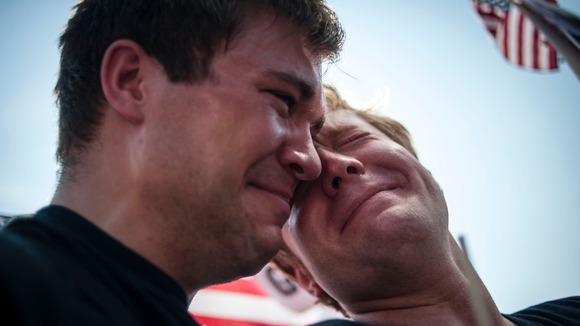 The US Supreme Court delivered two historic victories in the fight for equal rights for gay couples today. In a landmark ruling, the court decried the following:
Married gay couples were entitled to the same federal benefits as heterosexual couples
A previous ruling on California's Proposition 8, which paused same-sex marriages in the state, was upheld as "unconstitutional"
President Obama welcomed the court's decision, saying:
We are a people who declared that we are all created equal, and the love we commit to one another must be equal as well.
He also stressed that the ruling does nothing to change how religious institutions define and consecrate marriages. ITV Washington Correspondent Robert Moore reports.
A crowd of thousands gathered in Washington to celebrate the verdict.
The court voted 5-4 saying the Defence of Marriage Act, known as Doma, denied equal protection to same-sex couples. The verdict read:
Under Doma, same-sex married couples have their lives burdened, by reason of government decree, in visible and public ways.

Doma's principal effect is to identify a subset of state-sanctioned marriages and make them unequal.