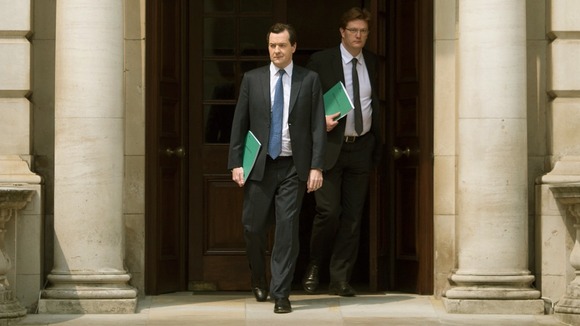 The Chancellor's Spending Review changes little about the overall predicament Britain is in.
The cuts of £11.5 billion were already on the cards and are part of an overall plan to narrow and eventually eradicate the gap between what the government receives in taxes and what it spends.
Instead, much of the interest today is precisely where those cuts fall and the impact they will have on the country – which departments won (the NHS, science, intelligence agencies and the military amongst others) and which lost (local government, the courts and – in a remarkable stroke of self-sacrifice – the Treasury itself).
But this is only half the picture. The cuts above are falling on departmental budgets but there is another whopping chunk (almost half) of government spending: Annually Managed Expenditure.
This is made up of pensions, welfare, the interest the government pays on the huge debt it has racked up and some other spending over which the government has little near-term control.
Altogether, it has expanded around 25 per cent over the past three years while department budgets have shrunk by 8 per cent.
The Chancellor wants to slow the welfare element. However, he excluded pensions, as anticipated by many, as well as the benefits most closely linked to the (weak) state of the economy like Job Seekers' Allowance.
So that leaves a rather narrow range of benefits to be cut – see this chart from the Resolution Foundation think tank published a few weeks ago (ESA means Employment and Support Allowance):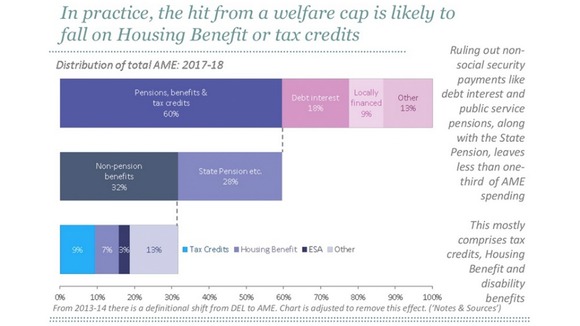 By excluding pensions and the benefits associated with the economic cycle, the Chancellor has put an automatic cap on a narrow range of benefits.
In fact the whole approach to pensioner benefits is mistaken, according to Patrick Nolan, chief economist at another think tank, Reform.
In a note today he explains why, including a reference to the announcement that winter fuel allowances will be withdrawn from British people living abroad – in hot countries:
…by excluding the state pension from the cap on transfers its coverage has become so narrow as to be practically meaningless.

The coalition has also failed to account for the growing costs that will arise due to the indexation of the state pension due to the triple lock, and the plans for the retirement age do not go far enough to account for increases in longevity.

The proposal to restrict the Winter Fuel Payment is complex and will save little money. The coalition's pension reforms are thus a case of one step forward and two steps back.
– Patrick Nolan, Reform

I think we are going to hear more about this. There is a growing body of opinion that pensioners are being shielded too much from the cuts.