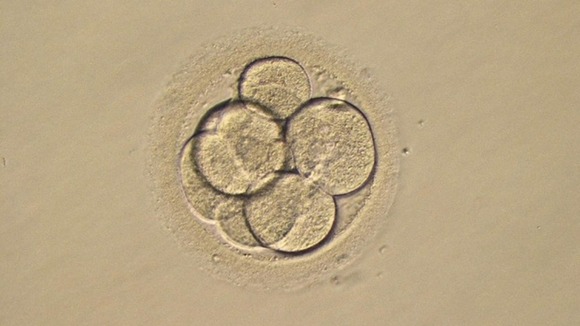 Britain could become the first country in the world to allow babies to be born with three genetic parents to help stamp out serious diseases.
If MPs agree that the controversial technique is ethically acceptable the first babies could be born by the end of next year.
However critics have said that the move would mark a slippery slope leading to "designer babies". It is predicted that between five and 10 "three parent" babies could be born each year.
The aim of this IVF is to stamp out serious diseases which can be passed from a mother to her children. Around one in 200 babies are born each year in the UK with a defect in the way cells are supplied with energy.
One in 6,500 babies can suffer potentially life-threatening diseases including a form of muscular dystrophy and conditions leading to hearing and vision loss, heart, lung and liver problems, and bowel disorders. An estimated 12,000 people in the UK live with the diseases.
ITV News Reporter Nina Nannar:
Genetic Alliance UK welcomed the proposal.
The charity's director, Alastair Kent, said:
Many of these [mitochondrial] conditions are so severe that they are lethal in infancy, creating a lasting impact upon the child's family.

An added option for families at risk of having a child with such a condition is welcome
However opponents have labelled the move unnecessary and unsafe
These techniques are unnecessary and unsafe and were in fact rejected by the majority of consultation responses.

It is a disaster that the decision to cross the line that will eventually lead to a eugenic designer baby market should be taken on the basis of an utterly biased and inadequate consultation.

Such a decision of major historical significance requires a much more extensive public debate with a much clearer outcome.

We therefore call upon the Secretary of State for Health not to legalise the techniques until a major national debate has taken place and the outcome is much clearer.
– JOSEPHINE QUINTAVALLE, COMMENT ON REPRODUCTIVE ETHICS