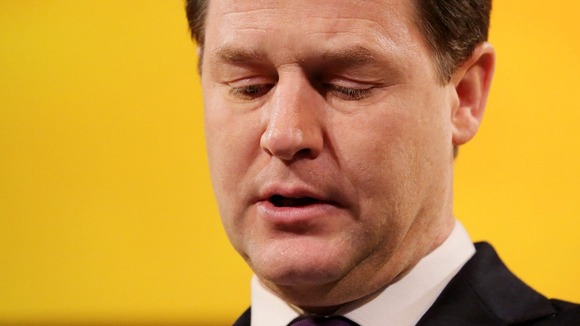 The Deputy Prime Minister has said that he would not accept a bumper pay rise amid reports that the Independent Parliament Standards Authority (Ipsa) is considering setting a pay rise for MPs.
MPs could be in line for around £7,500 salary increase, taking their wage to £75,000, according to Ipsa.
However, Nick Clegg warned that the public would not understand if MPs were set for pay increases.
ITV News' Political Editor Tom Bradby reports:
Speaking at the first of his planned Whitehall news conferences, Mr Clegg made clear that a rise on such a scale would be unacceptable to voters.
My own view is that the public would find it impossible to understand - particularly as (there are) millions of people in the public sector whose pay is only increasing by 1% - that their parliamentary representatives at a time like this would be receiving pay increases far in excess of that 1% increase.

Speaking for myself I would certainly seek to do whatever I can to make sure that either this decision is not taken in the first place - but that's out of my hands - but, secondly, if were to be taken, not to take that pay increase.
– Nick Clegg, Deputy Prime Minister

Prime Minister David Cameron has already urged Ipsa to "show restraint" warning it would be "unthinkable" to make Westminster more expensive to the taxpayer, while Labour leader Ed Miliband has also signalled his opposition to such a large increase.

Read more: Debatable pay: How do MPs' salaries vary home and abroad