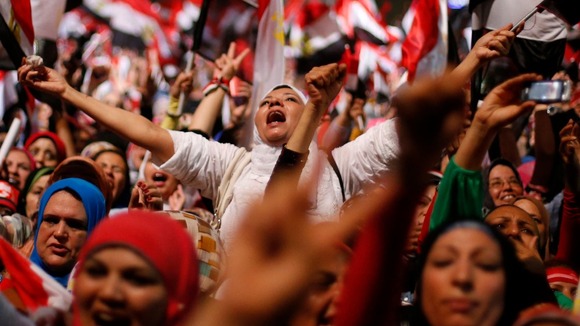 The Egyptian military has removed President Mohamed Morsi from power and dissolved the country's constitution.
Installing a technocratic government led by the head of the constitutional court amid promises of swift new presidential elections.
ITV News International Correspondent John Irvine reports from Cairo: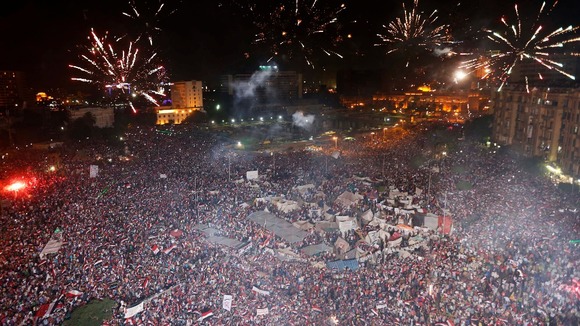 Anti-Morsi protesters in Cairo's Tahrir Square erupted in to cheers after General Abdel Fattah al-Sisi effectively declared the removal of the elected Islamist president.
Four people were killed in clashes between supporters of Mohamed Morsi and security forces in the northern city of Marsa Matrouh after the Islamist president was ousted by the army, the state governor said.
Governor Badr Tantawi told Reuters by telephone that the dead were Morsi supporters.
There were reports of clashes with Morsi supporters in the city of Alexandria when gunfire was heard as rocks and bricks flew, according to witnesses.
The military had been seen putting up barriers to try and control the flow of Morsi supporters amid fears there could be more more violence.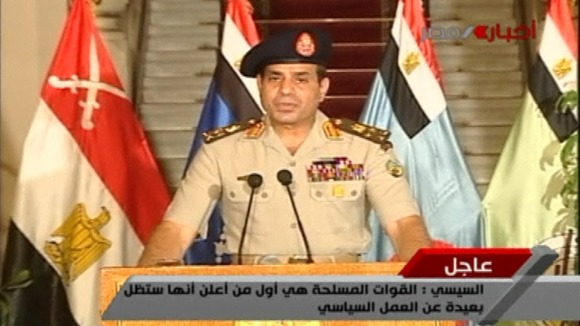 During the last few months, the armed forces have gone to great efforts to save the situation and achieve national dialogue between all political parties including the presidential institutions. In November 2012, it announced its willingness to start a national dialogue which was welcomed by all political and national parties but it was refused by the presidential institution
We were hopeful about achieving a national dialogue that would end the violence and secure stability to the Egyptian people but the statement by the president last night which was broadcast before the 48-hours deadline was not responsive to the demands of the people and this has forced the armed forces to hold talks with some of the national and political figures as well as the youth. During the talks, the attendees agreed on a road map which included initial measures aimed at building a strong and united Egyptian society and ending the violence and the conflict in the country
This roadmap includes, suspending the constitution, holding early presidential and parliamentary elections, the formation of a national reconciliation committee that would include youth movements. The head of the Supreme Constitutional Court has the authority to announce constitutional statements during the transitional period, the roadmap also includes setting up a panel to review the constitution amendments
– General Abdel Fattah al-Sisi

Egypt's leading Muslim and Christian clerics backed an army-sponsored roadmap.

Ahmed al-Tayeb, Grand Sheikh of Al-Azhar, Cairo's ancient seat of Muslim learning, and Pope Tawadros, the head of the Coptic Church, both made brief statements following an announcement by the head of the armed forces that deposed the elected president, Mohamed Morsi of the Muslim Brotherhood.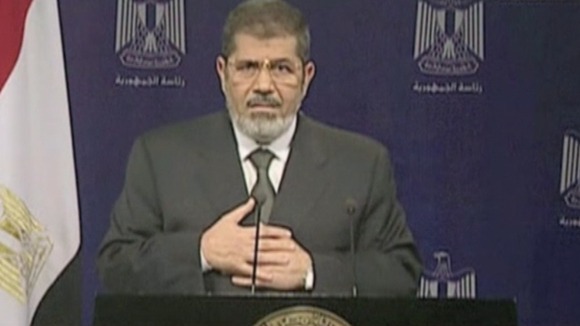 The President's office released statements on social media condemning the move:
Pres. Morsy: Armed Forces announcement is rejected by all free men who struggled for a civil democratic Egypt.
Pres. Morsy urges civilians and military members to uphold the law & the Constitution not to accept that coup which turns #Egypt backwards