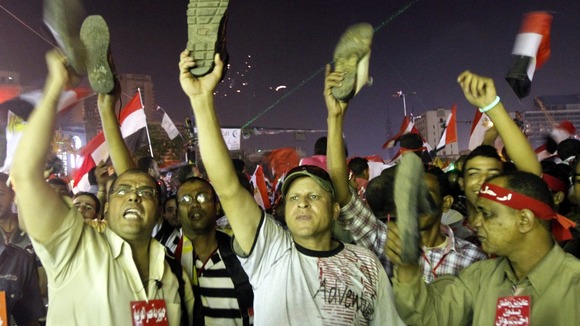 Political deadlock remains in Egypt as protests continue against President Mohammed Morsi, the first democratically elected leader of the country. Egypt's army commander and the Islamist president have both pledged their life to defy the other as today's military deadline approaches.
Rival protesters clashed outside Cairo University last night, where 16 people died and more than 200 were wounded.
Read: Ambulances and smoke after Cairo University clashes
Military chiefs issued a call to battle overnight called "The Final Hours" saying they were ready to die to defend Egypt's people against "terrorists and fools" after Morsi issued a statement yesterday refusing to give up his elected office. The army statement said:
It is an honour for us to die rather than that anyone should terrorise or threaten the Egyptian people. We swear to God, we will sacrifice even our blood for Egypt and its people to defend them against any terrorist, radical or fool. Long live Egypt and its people.
Read: Army vows to 'sacrifice even our blood for Egypt'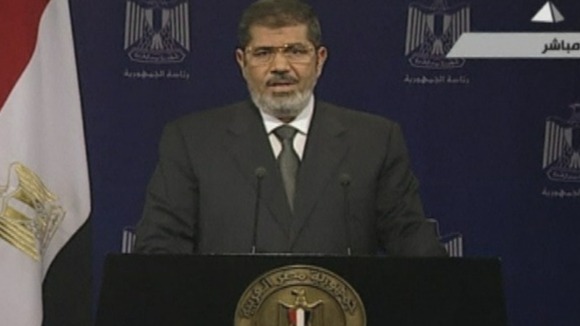 Speaking during a live address on state television yesterday Morsi said he was ready for dialogue and engaged with members of the opposition and wanted to solve the crisis, but vowed to protect and defend his "democratic legitimacy."
I will protect legitimacy with my life. We have to prove to the world that we are capable of democracy...peacefully, we protect legitimacy...legitimacy is our only safeguard from future faults....I do not accept anyone saying anything or taking any steps against legitimacy; this is completely out of the question.
More: Morsi: I'm Egypt's first democratically elected leader
Military sources told Reuters the army have drafted a plan to sideline Mursi and suspend his amended constitution, contentiously pushed through parliament last December.
More: Morsi signs contentious constitution into law
They plan to rule through an interim council pending new elections. The sources did not stipulate what would happen should Morsi refuse to step down.
The military's statement brought a celebratory air to the anti-Morsi protesters who had gathered in Tahrir Square. Morsi's Muslim Brotherhood meanwhile remain on the streets with the aim of defending Egypt's "legitimate president."
The Egyptian army have given all parties involved until today 1700 local time (1600 BST) to end their differences.