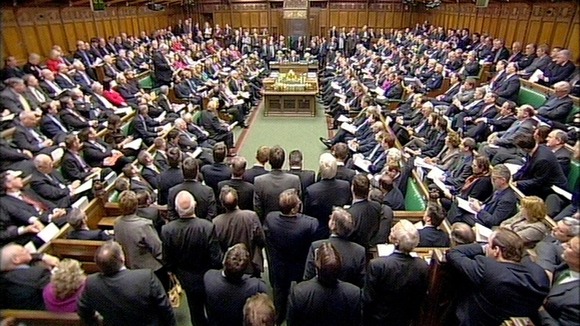 Education Secretary Michael Gove led a growing backlash against a pay hike for MPs - telling the regulator that proposed the rise to "stick it".
Mr Gove dismissed the Independent Parliamentary Standards Authority (IPSA) as a "silly organisation" after they proposed an 11% pay increase.
All three main party leaders also condemned the idea of an increase to £74,000 at a time of austerity.
Both Labour's Ed Miliband and Liberal Democrat Nick Clegg pledged to shun the extra money - although David Cameron stopped short of saying the same.
IPSA's chairman Sir Ian Kennedy was defiant over the plans, insisting that politicians' pay had to "catch up" after years of being suppressed.
He said the £4.6 million extra salary costs would be offset by curbs to pensions, "golden goodbyes", and expenses - meaning the overall burden on the taxpayer would only go up by £500,000 when the deal took effect after the 2015 general election.
Sir Ian told ITV News they were "doing something which will last for a generation, not go with the drift of whatever the political wind is".
ITV News Political Editor Tom Bradby reports:
IPSA has been given the final say on setting pay and pensions for MPs, meaning there would have to be a change in law to block its decisions.
Research by the regulator showed that two-thirds of MPs believe they are underpaid but there is concern about accepting a pay rise amid austerity and with a general election in two years.
Posting on Twitter, Labour's Tom Harris said:
The proof of the pudding: if our party leaders *really* don't want MPs to get a raise, the only way to prevent it is to abolish Ipsa.
If we abolish Ipsa, I will gladly vote to limit MPs' pay to a 1% rise. But will our party leaders offer us that option?
Tory backbencher Douglas Carswell wrote on his blog:
IPSA has, unwittingly, given us a clear choice; take the pay rise after 2015 and accept the IPSA system. Or veto the IPSA pay hike, and in so doing make it clear we have no confidence in doing things this way.
– Douglas Carswell

One MP who backed the proposals is Conservative Sir Peter Bottomley who told ITV News: "If an MP is not worth the pay, it is better to change the Member of Parliament".

Users of ITV News' Facebook page had mixed views on the pay hike.
Most people are lucky if they even get a 1% pay rise. Most have taken pay cuts to keep their jobs so to me a 12% pay rise is ridiculous considering the financial trouble this country is supposed to be in or do the financial troubles only apply to those on low incomes and not earning a ridiculous amount already.

Seriously, the independent expenses watchdog needs to take a reality check.
– MICHELLE REITSMA
Quite honestly I think it is right to give an increase but maybe half that proposed and half later on.

They do an important job worth billions and are not adequately rewarded.

But then their expenses must be limited to true expenses, and not fictitious ones... 12 % is too high in one go!!
– COLIN SMITH