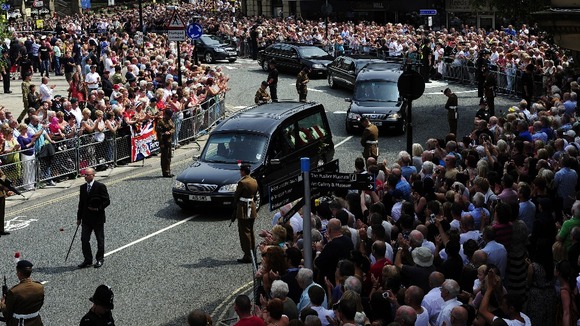 The young son of Lee Rigby paid tribute to "My Daddy My Hero" as thousands of mourners gathered to remember the soldier.
ITV News Correspondent Martin Geissler reports: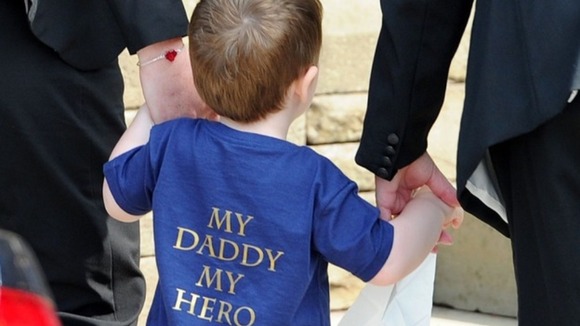 Spontaneous applause broke out as the family and comrades of Fusilier Rigby's arrived for the funeral service at Bury Parish Church, where comrades had maintained a guard of honour overnight.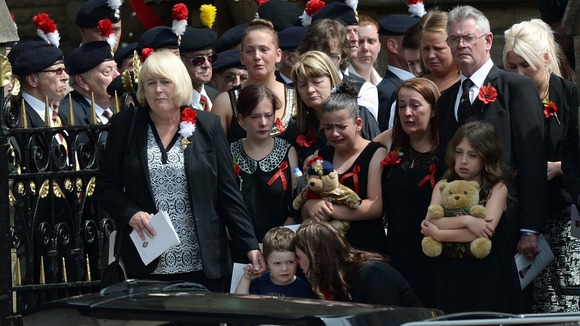 The 25-year-old's wife Rebecca, 30, walked in with the couple's two-year-old son Jack, who wore a blue T-shirt with the words "My Daddy My Hero" on the back.
His mother Lyn, 46, was in tears as she held hands with her husband, Ian, 54, Lee's stepfather. The soldier's sisters, Sara, 24, and Chelsea, 21, embraced each other in tears outside the church.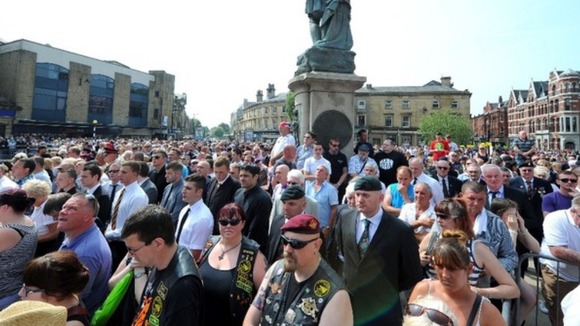 Around 800 mourners filled the church for the private service just a couple of miles from his home town of Middleton, Greater Manchester.
Fusilier Rigby, a drummer in the 2nd Battalion Royal Regiment of Fusiliers (2RRF), was killed as he returned to Woolwich barracks in south east London from the Tower of London on 22nd May.
In his eulogy, Fusilier Lee Rigby's commanding officer, Colonel Jim Taylor, said: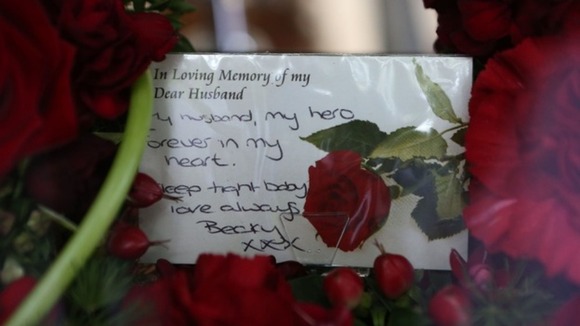 Fusilier Lee James Rigby, or Riggers to his friends in the Army, was an extremely popular soldier. A larger-than-life personality, he loved to perform and belonged in the Second Fusiliers' Corps of Drums. He was truly charismatic.

To be with Lee was to be where it was most fun - the centre of good times and much mischief.
People fell quickly under his spell. Whether it was in work or off duty, at a ceremonial engagement or on operations, Lee just knew how to lighten the mood.

He could brighten a room within moments and, by all accounts, clear a dancefloor in seconds if a Whitney Houston track was playing.

Lee had a natural swagger and the confidence of someone truly comfortable in their own skin.

He was always happy. His smile was infectious, as was his enthusiasm for soldiering and his passion for life.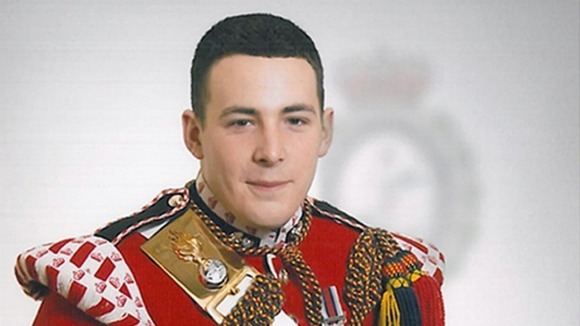 Prime Minister David Cameron, who told the Commons earlier this week that the whole of the UK will be mourning with the family, was among dignitaries attending the service. He arrived with London Mayor Boris Johnson to a ripple of applause.
The funeral of Lee Rigby was a sombre occasion - but it was also moving to see the love and dignity of his family and fellow soldiers.i
Ahead of the funeral Fusilier Rigby's mother spoke of the special bond the pair shared, describing how he always turned to her for help and advice.
"He always looked after me. We had a special bond, we always had"
His said they wanted to celebrate his life as a fun-loving family man, with "a heart of gold."
His mother and step-father Lyn and Ian Rigby said they wanted the ceremony to fit his life, and be an opportunity for his loved ones to enjoy their memories.
"He was a fun-loving, he loved to party. He was so loving, he would do anything for anybody."
In Woolwich, where Fusilier Rigby died their were also tributes to the soldier.