The Ministry of Defence (MoD) has named one of two soldiers who died during a military exercise in the Brecon Beacons on Saturday as Lance Corporal Craig Roberts.
A second soldier, who has not been named, also lost his life, while a third remains in hospital. It is not expected that the MoD will name the second soldier.
While the circumstances remain unclear, military sources said that no live ammunition was used and that the soldiers may have succumbed to the 30 degree heat.
All three soldiers were Army reserves and are believed to have been taking part in an SAS selection process.
ITV News correspondent Martin Geissler reports from Brecon:
The MoD declined to give further details of the exercise but confirmed that an investigation into the deaths is under way. In a statement, a spokesman said:
It is with great sadness that the Ministry of Defence can confirm the death of LCpl Craig Roberts and another Army reserve soldier during a training exercise in the Brecon Beacons at the weekend.

Our thoughts are with their families and friends at this difficult time.

The families of the soldiers have requested that their privacy is respected at this difficult time.
– MoD spokesman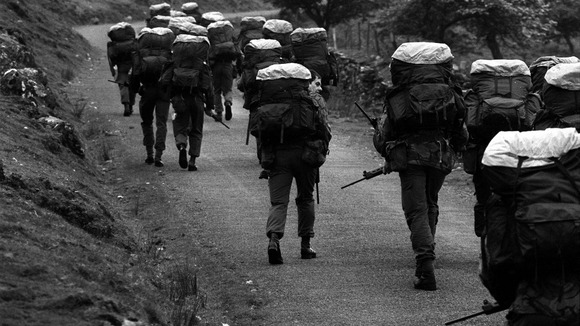 The Brecon Beacons in Wales have long been used for military training as the steep terrain and rugged landscape are a perfect setting for endurance exercises.
The SAS website confirms that the elite force has two reserve units and that new recruits are put through a tough selection process to test their physical and intellectual ability.
The initial 'aptitude' test is described as "a progressively arduous phase, requiring greater expenditure of physical energy, designed to select volunteers with the right qualities".
These qualities are described as follows:
Physically and mentally robust
Self Confident
Self Disciplined
Able to work alone
Able to assimilate information and new skills
Read: SAS reserves must pass 'arduous' selection process
James Hopkinson, a former instructor at the Infantry Battle School in Brecon, described the challenging conditions that the soldiers would have been up against:
The deaths have inevitably raised questions about whether the soldiers were subject to unnecessary risks, but an MoD spokesman has said there are no plans to change "routine exercises" in light of the incident.
Phil Speck, who was walking in the Brecon Beacons on Saturday, told the BBC he saw soldiers, but nothing to suggest the tragedy that would later happen.
They did look very hot, they were tired in the afternoon, but it did kind of seem like you would normally see the soldiers when you're walking up there.

I think maybe if we had walked past another walker who was on their own, you might have gone 'Is everything OK? Do you need some extra water?'

They looked very hot and sweaty but when you see the soldiers you do walking in the Brecon Beacons, you see them all the time, you kind of get used to the fact they can cope with those conditions.
– phil speck

Another hiker, David Capstick, told Channel 4 News that one of the soldiers had asked whether he had any water to spare for a colleague who appeared to be "in distress".