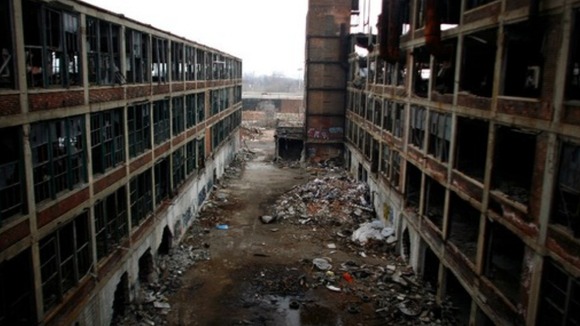 The city of Detroit - once a symbol of America's industrial supremacy - has filed for the biggest ever bankruptcy in US history.
The city owes its creditors nearly 20 billion dollars, and it cannot pay, as Washington Correspondent Robert Moore reports.
A number of factors are being blamed for the city's decline. A quarter of a million residents left the city between 2000 and 2010. A population that in the 1950s reached 1.8 million is currently struggling to stay above 700,000.
The city's debt is estimated to be $18.5 billion
The city has more than 78,000 abandoned buildings
The murder rate is at a 40-year high
The Mayor of Detroit said the decision to file for bankruptcy protection was "very difficult", adding, "If it's going to make the citizens better off then this is a new start for us".
This is a very, very difficult day for me, as I'm sure it is for a lot of our citizens here in the city of Detroit.

When I took office over four years ago, I said Detroit was in a financial crisis and we tried to work our way through this situation over the last four years but it has been very, very difficult.

As tough as this is, I really didn't want to go in this direction, but now that we are here, we have to make the best of it.
Read: Population fall fuelled descent into bankruptcy
Detroit's state-appointed emergency manager has told a press conference that the move to bankruptcy was "tool" to give the city "breathing room".
Bankruptcy is a tool in our toolbox to get at the goals that we want to achieve.

It gives us breathing room. We are being sued on almost a weekly basis and that's the very thing that I have pleaded for - not to happen.
Governor Rick Snyder has said declaring the US city as bankrupt is an "opportunity to stop 60 years of decline in Detroit." He told a press conference:
That's why we wanted this, to reassure the citizens of Detroit that normal operations will continue. People will be paid, people can do services.

I don't view this as a terrible answer. Now is our opportunity to stop 60 years of decline. This is fundamental.
Read: Governor: 'Now we can stop 60 years of Detroit decline'