Divers' dramatic escape in near miss with 50 ton whales
A group of friends who were snorkelling got the shock of their lives when two humpback whales breached the surface to gulp down a school of fish.
In an incident that has to be seen to believed, the divers were just yards away from being swallowed themselves when the five storey tall, 50 ton mammals, surfaced.
We decided to snorkel right off the back of the boat, just to see if we could hear some whales.

I have a pretty good idea how big whales are, but until you see one up close - oh my god, that was big!

Before I knew it the whales just popped out of the water. It was like two mountains just erupted out of the water in front of me.
– Diver Shawn Stambac

The three friends were just 2.5 miles off the central coast of California.

Diver Jay Hebrard said: "Three foot difference one way or the other and we could have ended up with a completely different story."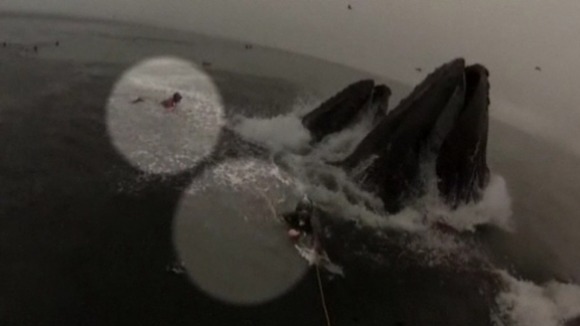 The trio have traveled the world watching sea life, including with dolphins in Tasmania, but said they could never have expected to get so close.