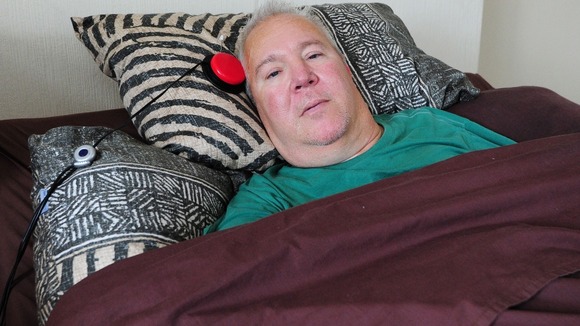 Locked-in syndrome sufferer Tony Nicklinson's widow and a paralysed road accident victim today pledged to continue their battle for a change in the law to give people who are physically unable to end their own lives the choice of a "dignified and humane" death.
Paul Lamb and Jane Nicklinson, whose husband died last August after losing a High Court bid to end his life with a doctor's help, spoke of their intention to take their case to the UK's highest court after appeal judges rejected the latest round of their fight over the legal ban on voluntary euthanasia.
As a family, we are hugely disappointed with the judgment but it will not stop us.

We will carry on with the case for as long as we can so that others who find themselves in a position similar to Tony don't have to suffer as he did. Nobody deserves such cruelty.
– Mrs Jane Nicklinson

ITV News Social Affairs Editor Penny Marshall reports:
Former builder and father-of-two Mr Lamb, 57, from Leeds, who wants a doctor to help him die in a dignified way, said he was "absolutely gutted" by the decision, but said he would not give up.
Mr Lamb, who had won the right to join the litigation to continue the action started by Mr Nicklinson, said:
I was hoping for a humane and dignified end. This judgment does not give me that.

I will carry on the legal fight - this is not just about me but about many, many other people who are being denied the right to die a humane and dignified death just because the law is too scared to grapple with these issues.

I think they are in a better position to make a fair decision on this and I think the right decision is literally so people like me can have the independence to choose as and when to die and know full well that whoever helps has no chance of being prosecuted.

I believe you should have a right to die in the comfort of your own home with the right family and friends you want around you but in a very dignified manner.
Mr Lamb, who is immobile except for limited movement in his right hand and has been in significant pain since his accident in 1990, added: "No retreat, no surrender, is my motto with all of this."
The Lord Chief Justice Lord Judge, sitting with Master of the Rolls Lord Dyson and Lord Justice Elias, said in a lengthy written ruling following a hearing in May that the law "relating to assisting suicide cannot be changed by judicial decision".
Parliament "represents the conscience of the nation" in life and death issues, he said, adding: "Judges, however eminent, do not; our responsibility is to discover the relevant legal principles, and apply the law as we find it."
The director of public prosecutions, Keir Starmer QC, has said it would be "sensible" for the Crown Prosecution Service to seek the views of the Supreme Court before amendments are made to law on right-to-die cases.
While I respect the carefully considered judgment of the Court of Appeal, I think it would be sensible for the CPS, if possible, to have the benefit of the views of the Supreme Court before any amendments are made to the DPP's Guidelines in this important and sensitive area of the law.
– Keir Starmer QC

Lord Falconer told ITV News that it is up to parliament to legalise assisted suicide for the terminally ill.

The Labour peer is to table a private members bill on the issue.