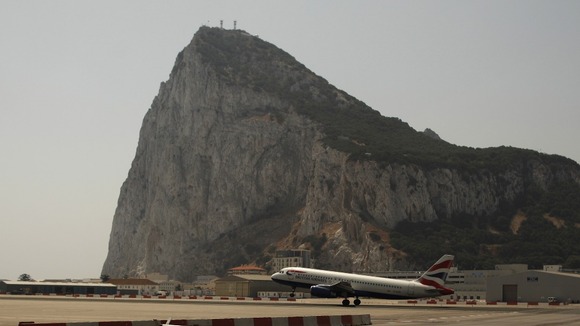 The Prime Minister and Foreign Secretary have added their voices to an increasingly bitter row between Spain and Britain over Gibraltar.
David Cameron said he was "seriously concerned" about rising tensions and proposals by Spain to impose a levy on people travelling into and out of the British overseas territory.
Deputy Political Editor Chris Ship reports:
Read: Spanish foreign minister says time for a tougher line with Gibraltar over fishing
The latest tensions began 10 days ago after boats from Gibraltar began dumping blocks of concrete into the sea off its coast, saying it was creating an artificial reef that would foster fish populations.
Spain said the reef would block its fishing boats and has ramped up checks, creating long lines at the border between Spain and the territory.
The diplomatic row is the latest in a long history of disputes, as Spain claims sovereignty over the rock, which it ceded under the terms of the Treaty of Utrecht back in 1713.
More: Why British territory Gibraltar is such a rocky point in Spain
Spain claims sovereignty over the Rock, which stands on the southernmost tip of the Iberian peninsula but has been a British Overseas Territory since the Treaty of Utrecht in 1713.
Gibraltar's chief minister Fabian Picardo did little to alleviate tensions today: he compared Spain's foreign minister to dictator General Franco, and said his sentiments sounded like something from the North Korean regime.
Foreign Secretary William Hague spoke to Gibraltar's chief minister Fabian Picardo this evening to reiterate his support, saying:
I emphasised to Gibraltar's elected Chief Minister, Fabian Picardo, that the UK stands shoulder to shoulder with the people of Gibraltar at this time of increasing Spanish pressure and rhetoric.

I also highlighted that we will respect Gibraltar's 2006 Constitution and the commitments the UK has repeatedly made not to compromise on British sovereignty over Gibraltar.