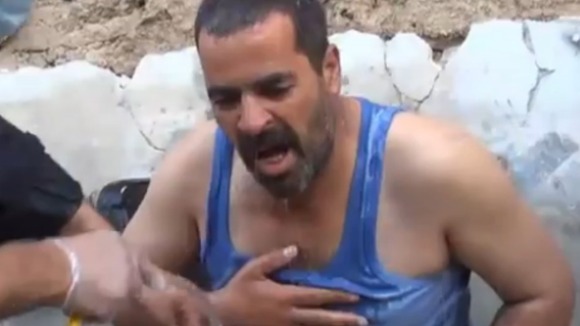 Syrian rebel fighters have alleged that the Assad regime launched "a series of chemical attacks" on the Damascus suburbs of Adra and Douma yesterday morning.
Video posted on YouTube purports to show victims suffering from a range of symptoms associated with chemical weapon use.
ITV News Middle East Correspondent Geraint Vincent reports:
Residents reported that the attack took place during morning prayers yesterday, and approximately 400 people were showing "signs of exposure to chemical toxic gases."
The Syrian Coalition have called on the UN to investigate and again appealed to the international community to take action to stop the regime and hold Assad to account for war crimes. In a statement, the Coalition said:
The Syrian Coalition calls on the UN chemical weapons inspection team to investigate Ada in rural Damascus for Assad's use of toxic gas against civilians.

The Syrian Coalition reiterates its commitment to fully cooperate with the team's mission to gather evidence on the use of chemical weapons.

Continued international inaction leaves the lives of thousands of Syrians in danger. The Syrian Coalition denounces international negligence in regard to Assad's use of chemical weapons and urges the international community to deliver on their promises to put an end to Assad's crimes.

It is absolutely unacceptable that the international community continues to be passive and negligent in regards to the critical situation in Syria.