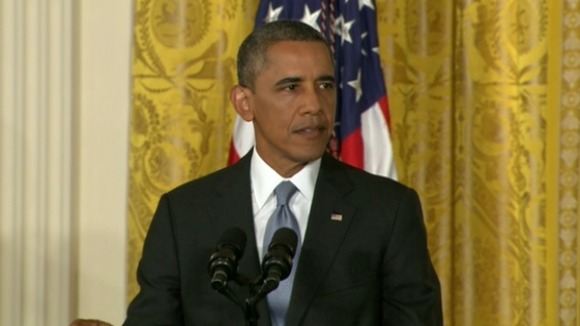 President Barack Obama said he was reassessing the relationship with Russia due to the growing number of issues on which the two countries differ, and he lamented what he called his mixed success in trying to convince Russian leader Vladimir Putin to abandon a Cold War mentality.
ITV News Diplomatic Correspondent John Ray reports:
During a news conference the President said: "I've encouraged Mr. Putin to think forward as opposed to backwards on those issues, with mixed success." Two days ago the US cancelled a planned September summit with Putin. The cancellation was a rare and pointed diplomatic snub over US unhappiness with Russia granting asylum to NSA leaker Edward Snowden, a move that exacerbated already deep differences between Washington and Moscow on other matters.
I think the latest episode is just one more in a number of emerging differences that we've seen over the last several months around Syria, around human rights issues where, you know, it is probably appropriate for us to take a pause, reassess where it is that Russia's going, what our core interests are, and calibrate the relationship so that we're doing things that are good for the United States and, hopefully, good for Russia.
– Barack Obama