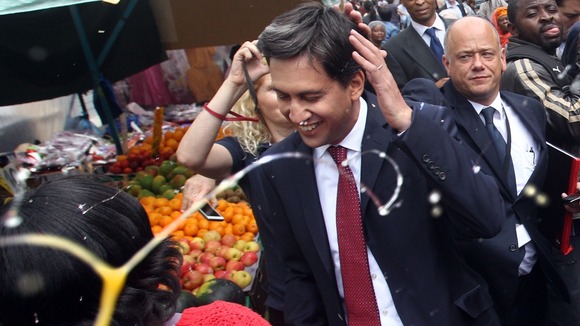 Labour leader Ed Miliband was pelted with a volley of eggs during a visit to a south London market.
He was hit on his hair, face and jacket in the incident, but soon regained his composure: taking of his stained jacket and continuing with the tour of East Street market, earlier today.
The Labour leader's cool reaction could be due to the fact that this is not his first experience of such a incident. In May 2012 he was pelted during a visit to Southampton whilst doing an interview with ITV Meridian.
Read: Miliband cracks joke after Southampton egging
ITV News Political Correspondent Carl Dinnen reports:
His previous experience of being egged seemed to help him take the pelting in his stride. He commented after:
This is not the first time it's happened to me, I'm sure it's not the last. I'm always looking for new ways to connect with the voters.
Thanks to all at East St Market for the warm welcome today. Can recommend it for easy availability of eggs.
Dean Porter, who threw the eggs, said he was protesting against "all the politicians' corrupt policies" and in particular the lack of provision for homeless people, which he said he had experienced:
This evening the Met told ITV News they would not be making any arrests, at the request of the Labour leader.
I can confirm that officers were made aware of the incident at East Street market this afternoon.

No police officers were there at the time, an officer did attend however Mr Miliband had left by then.

We have since been informed that Mr Miliband does not want to take the matter any further.
But the former deputy prime minister Lord Prescott, who famously did not take his own egging incident quite so lightly, called for the police to interview Mr Porter, regardless of whether or not Mr Miliband wanted to press charges: