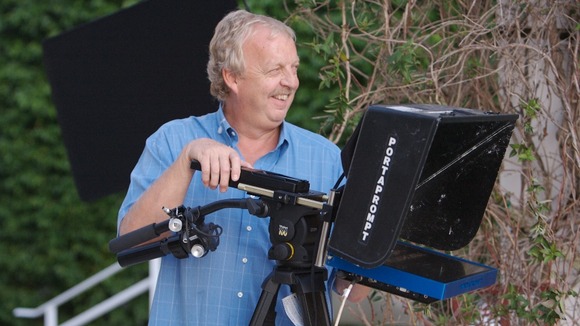 A British cameraman was killed in Cairo today while covering clashes between supporters of deposed president Mohamed Morsi and Egyptian security forces.
Sky News' Mick Deane, 61, who was married with two sons, was shot dead this morning.
Tributes have been paid to the cameraman, with the Prime Minister saying he was "saddened" by the death.
I am saddened to hear of the death of cameraman Mick Deane, covering Egyptian violence. My thoughts are with his family and @skynews team.
Tom Rayner, the producer who worked with Mr Deane in Egypt, tweeted "we lost the heart of our team."
In our attempt to show the world the horror at Rabaa today, we lost the heart of our team. I can't find more words now. We love you Mick
Mr Deane, who was with Sky News' Middle East correspondent Sam Kiley when he was shot, had worked for the broadcaster for 15 years including stints in Washington and Jerusalem.
Sky said the rest of the team covering the outbreak of violence in Cairo with him were unhurt.
Head of Sky News John Ryley described Mr Deane as "the very best of cameramen, a brilliant journalist and an inspiring mentor to many at Sky."
Everyone at Sky News is shocked and saddened by Mick's death.

He was a talented and experienced journalist who had worked with Sky News for many years.

The loss of a much-loved colleague will be deeply felt across Sky News. Our thoughts and prayers are with his wife and family.

We will give them our full support at this extremely difficult time.
– John Ryley, Head of Sky News

He previously worked in the Hong Kong bureau with ITV Presenter Mark Austin in the mid-1990s.
My heart goes out to the family of Mick Deane.

He was a great friend and my guide for many years in Asia. I always said it, he really was one of the best.
– Mark Austin

ITN's chief executive John Hardie also paid tribute to Mr Deane, saying his death was "a very sad moment for all of us working in television news."
Our condolences go out to Mickey's family, our colleagues at Sky News and those here who knew Mickey from his work for ITN, where he worked in the Hong Kong bureau with Mark Austin and others in the mid-90s.

Mickey's death is a very sad moment for all of us working in television news and makes us remember again the passing of brave journalists such as Tim Hetherington killed in Libya, Marie Colvin killed in Syria, and of course our own Terry Lloyd, Fred Nérac, Hussein Osman and Gaby Rado in Iraq.
– JOHN HARDIE, ITN CHIEF EXECUTIVE

Speaking on Sky News, its Foreign Affairs Editor Tim Marshall said he was "a gentleman".
Yeah, he was a cameraman-journalist but more than anything the guy was funny, he was wise, he kept his counsel, when he gave his counsel it was well worth listening to and he was just a guy you liked being around.

That's pretty high tribute.
– Tim Marshall, Foreign Affairs Editor

He added: "Micky Deane was a great cameraman, but he was - which is far more important - a great human being."