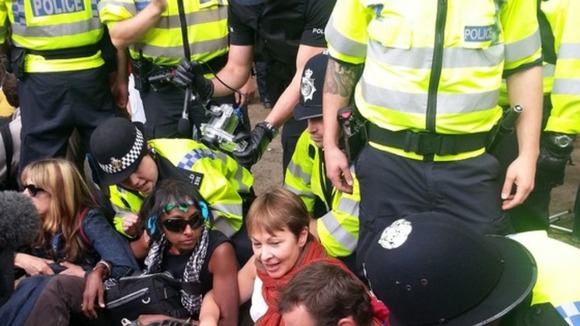 The Green MP Caroline Lucas was among 29 protesters arrested after taking part in a campaign of civil disobedience against fracking in Balcombe, West Sussex.
Most were arrested for ignoring directions to leave, or obstructing a highway, or both.
Protests against the controversial method of extracting gas from the ground have gained pace in recent days.
There were also smaller protests outside the offices of the fracking firm Cuadrilla Resources and those of PR firm Bell Pottinger, as well as the home of Lord Howell.
Work at the test drilling site in Balcombe has been suspended in the interests of safety.
ITV News correspondent Juliet Bremner reports:
Read: Anti-fracking protesters 'shut down Cuadrilla's HQ'
Caroline Lucas was led away by police officers amid cheers from fellow supporters.
The Green party MP for Brighton Pavilion released a statement a few minutes after her arrest:
People today, myself included, took peaceful non-violent direct action only after exhausting every other means of protest available to us.

I'm in the privileged position of being able to put questions to the Government directly and arrange debates in Parliament, but still ministers have refused to listen ...

When the democratic deficit is so enormous, people are left with very little option but to take peaceful, non-violent direct action.
– Caroline Lucas, MP for Brighton Pavilion

Our correspondent said the protests in Balcombe appeared peaceful, but Sussex Police said officers had no choice but to arrest protesters who would not move peacefully.

Video: Caroline Lucas applauded as she is arrested by police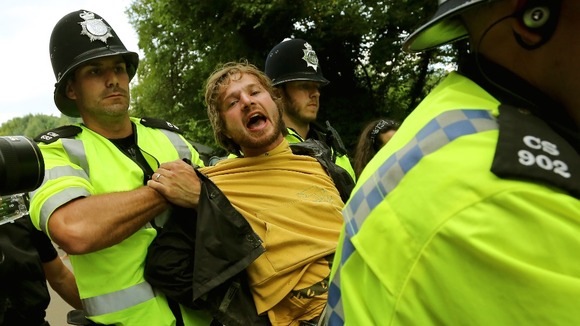 Police: About 30 arrested at anti-fracking protest
Cuadrilla Resources started exploratory drilling at its Balcombe site on 2 August to see whether it is suitable for fracking.
The firm says it complies with all relevant planning laws and that the demonstrations will not prevent work moving forward.
Further protests are planned at the site in the coming days.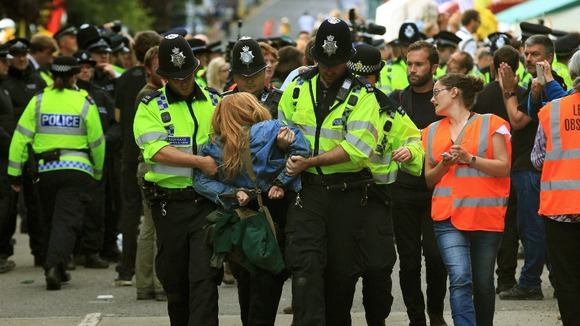 Cuadrilla chief: 'We will complete our work'