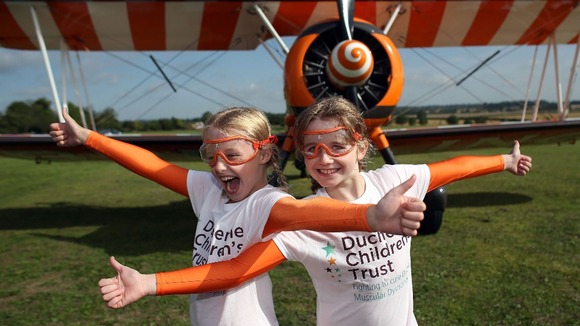 Two nine-year-old schoolgirls are thought to have become the world's youngest formation wing-walkers.
Rose Powell and Flame Brewer, both from London, took to the skies on two of their grandfather's vintage biplanes over Gloucestershire.
In doing so they became the third generation of their families to wing-walk on the aircraft, as ITV News Correspondent Martha Fairlie reports.
The planes flew just two metres apart and 30 feet off the ground, and reached speeds of 100 mph at moments throughout the short flight.
Read: Young wingwalkers travelling up to 100 mph
The cousins were inspired to undertake the feat as they wanted to raise money for their six-year-old friend Eli Crossley, who suffers from Duchenne muscular dystrophy.
His parents have set up the Duchenne Children's Trust to raise money to research a treatment or cure in time to save Eli's life.
Speaking after her flight, Rose said she was delighted to do something to help her friend.
It feels really nice to have done something to help Eli and hopefully get lots of people to know about the Duchenne Children's Trust.
Rose also admitted she was a little scared, but said she loved seeing the houses below as "lego blocks" and feeling like a bird.
That was amazing. It's really hard to explain what it's like.

It just felt like we were birds soaring over the neighbourhood - it was really cool.

When we were up in the air the houses were like Lego blocks.

I was a little bit frightened but once I was in the air and having fun I got over it, it was really fun.