Kevin Spacey urges TV bosses to give audiences 'control'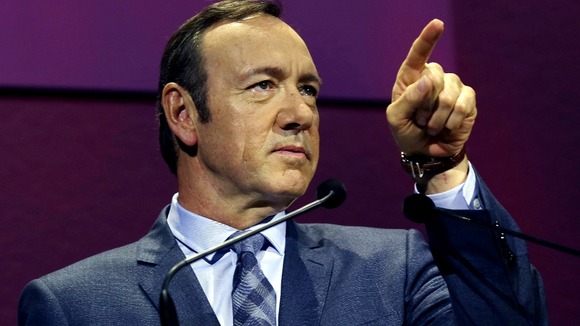 Double Oscar-winning actor and executive producer Kevin Spacey has challenged TV channels to give "control" to their audiences or risk losing them.
Speaking at the Edinburgh Television Festival this evening he said that TV industry must learn the lessons of the music industry and adapt to internet consumer habits. Debi Edwards reports.
The Hollywood star, whose most recent project, House of Cards, has been a commercial and critical hit after it was released on streaming service Netflix, said it in order to innovate, TV must give their audience more freedom, and more control.
Clearly the success of the Netflix model - releasing the entire season of House Of Cards at once - has proved one thing: the audience wants control. They want freedom. If they want to binge - as they've been doing on House Of Cards - then we should let them binge.
He stressed the need for TV bosses to innovate how the delivered they content, which he said was still key.
If you watch a TV show on your iPad is it no longer a TV show? The device and length are irrelevant... For kids growing up now there's no difference watching Avatar on an iPad or watching YouTube on a TV and watching Game Of Thrones on their computer. It's all content. It's all story.
Edinburgh TV festival runs from August 22 to 24.