Web wonder Colonel Meow becomes world record holder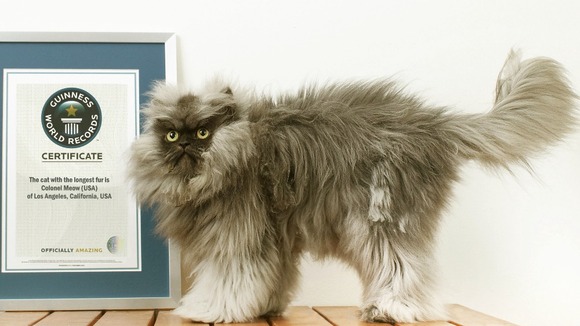 A cat who became an internet sensation due to his fearsome appearance looks set to become an even bigger hit after securing a world record.
Colonel Meow already has his own website, a YouTube channel with more than 1.3 million views and a Facebook page with almost 180,000 likes.
And now he has a world record to add to his collection for being the cat with the longest fur.
The two-year-old Himalayan-Persian cross-breed has hair that reaches nine inches (22.87cm).
The Colonel became a web wonder hit after photographs of him were posted with captions expressing his desire for world domination, a love of Scotch whisky and a hatred of birds.
His owners, Anne Marie Avey and Eric Rosario, are holding a celebration of the record today at their home in Los Angeles, USA.
Colonel Meow wrote on Facebook after the announcement:
Yes, minions, it is true. Your great and humble leader is now officially a WORLD RECORD HOLDER.

Today it's the longest fur. Tomorrow it's largest kingdom.
Ms Avey, who Colonel Meow lets appear in some of his videos, said: "We already knew that he was the best cat in the world, but to be recognised in the Guinness World Records book takes it to the next level."
"Literally everything in the house has hair on it, including us. I feel like I'm always vacuuming."
Colonel Meow will feature in the Guinness World Records 2014 book, released on 12 September.