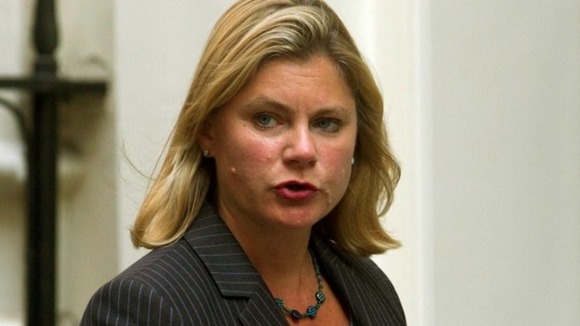 A Cabinet minister claimed she missed last night's crucial vote on Syria because she did not hear the bell that alerts MPs that voting is taking place.
It is believed International Development Secretary Justine Greening was with junior foreign minister Mark Simmonds in a room close to the House of Commons chamber when the division bell rang.
The division bell is an electronic system of bells set up throughout Parliament and also in several external buildings, including restaurants, hotels and bars.
During ITV News' special edition of News at Ten last night, it could clearly be heard as Political Correspondent Carl Dinnen reported from Central Lobby.
What makes the situation even more embarrassing is that Ms Greening had returned from holiday to take part in a meeting of the National Security Council, which was chaired by David Cameron, on the issue of military intervention in Syria.
Both MPs had earlier voted against the defeated Labour amendment at 10pm, which called for "compelling evidence" the Assad regime was behind the chemical attack.
According to The Spectator Coffee House blog editor Isabel Hardman, she tried to make up for her blunder, but to no avail:
Eagle eyes in Commons say Greening tried to get nodded through having missed vote but Speaker said no.
When quizzed about the issue earlier today, the Prime Minister said he had accepted the ministers' "profuse apologises" and explained they missed it because of a "technical issue":
He added that even with their two votes, the Government's motion on Syria would still have been rejected.
Sunday Mirror political editor Vincent Moss said it was "implausible" that the ministers failed to hear the bell ringing.
Greening & co came to HoC for the sole reason of Syria vote & missed it for "technical" reason. Implausible.
@jonswaine Exactly. Division bells ring across Parl. estate. MPs have phone alerts re imminent votes - plus they knew vote times anyway
A stunned anonymous Conservative MP told the Daily Mail's political editor James Chapman:
Tory MP on Greening/Simmonds: 'You didn't need a bell to know 2 votes at 10pm, nor crystal ball to know every vote mattered. Incredible'
It now appears that the bells are being tested, according to ITV News Westminster news editor Sam Haq:
It was joked that to avoid a repeat of the incident, members of the Cabinet should physically ring a bell to alert their colleagues, like the then Culture Secretary Jeremy Hunt: