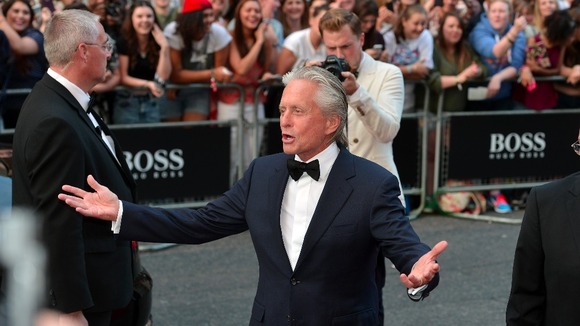 It was a night of barbed quips as the hosts of the GQ Awards managed to upstage the winners with their controversial antics.
Rob Brydon reduced the Royal Opera House audience to stunned silence when he joked bipolar Stephen Fry could not be "left alone with vodka and pills", after he had tried to commit suicide last year.
Rob Brydon just said that Stephen Fry couldn't be "left along with vodka or pills". Tumbleweed. And rightly so me thinks.
Read: Stephen Fry reveals he attempted suicide in 2012
Russell Brand also ruffled feathers by insulting sponsors Hugo Boss as he referred to their history in Nazi Germany, before getting into a battle of wits with Writer of the Year winner, Charles Moore.
Hugo Boss formally apologised in 2011 for their maltreatment of 140 Polish and 40 French workers, forced to produce Nazi uniforms during the Second World War.
While Brand quipped that the Nazis "looked fantastic," Moore took to the stage and reminded the audience of the BBC scandal Brand resigned from Radio 2 over - Sachsgate.
Moore famously refused to pay his license fee in 2009 in protest over the affair, in which Brand, egged on by Jonathon Ross, left inappropriate messages on the voicemail of Fawlty Towers actor Andrew Sachs about his granddaughter.
Weird Charles Moore v Russell Brand beef at the GQ awards. I think Moore just compared Sachsgate to Kristallnacht.
Finally, it was the turn of Noel Gallagher to criticise Foreign Secretary William Hague, who presented an award, for being "here with all the s**t going on around the world you should be sorting out".
Noel Gallagher - fine reception and short but cutting speech as you'dhopr #GQawards
The big winner of the night was Sir Elton John, who was declared a genius but then promptly gave his prize away - to the man who was presenting it.
Paying tribute to Dr Feelgood guitarist Wilko Johnson, who has fought a very public battle with cancer, Sir Elton handed him his award saying: "You're the f***g genius here".
He added: "He's too busy living life to think about f***g dying".
Michael Douglas was man of the moment, and put his marriage troubles behind him as he was presented with the legend award by Samuel L Jackson.
He admitted this year had "been something" and said his award was "a polite way of saying this is my third act".
Hugo Boss Most Stylish - Dan Stevens
Comedians - Simon Pegg, Nick Frost and Edgar Wright
Politician - Boris Johnson
Oracle - Russell Brand
Breakthrough Menswear Designer Brand - Jonathan Saunders
Lifetime Achievement - Sir Bobby Charlton
Radio Personality - Nick Grimshaw
Entrepreneur - Evgeny Lebedev
Chef - Jason Atherton
Sportsman - Carl Froch
Writer - Charles Moore
Woman - Emma Watson
Editor's Choice Award - Roger Daltrey (Dylan Jones)
The Serpentine Gallery GQ Art Award - Tracey Emin
Band - Arctic Monkeys
Remy Martin Breakthrough - Eddie Redmayne
TV Personality - Piers Morgan
Performer - Pharrell Williams
Inspiration - Lou Reed
Icon - Noel Gallagher
Designer - Tom Ford
Genius - Sir Elton John
Legend - Michael Douglas