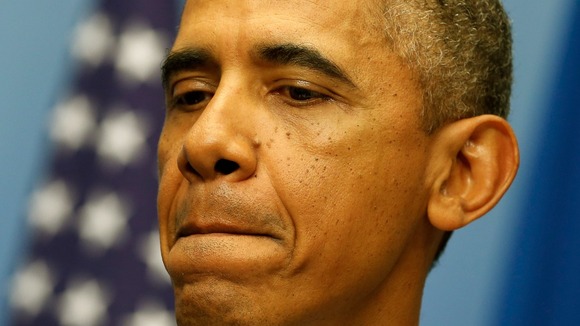 US President Barack Obama made a personal appeal to the international community to act together against the "barbarism" of the Syrian government in order to prevent the "erosion of international norms."
His comments came as the US Foreign Relations committee voted 10 to seven for military action, and ahead of Russia hosting tomorrow's G20 meeting of world leaders.
Washington Correspondent Robert Moore reports.
Speaking during a one day visit to Sweden, President Obama said:
My credibility is not on the line. The international community's credibility is on the line and America and Congress's credibility is on the line because we give lip service to the notion that these international norms are important.

So, the question is, how credible is the international community when it says this is an international norm that has to be observed.

I do think that we have to act because if we don't we are effectively saying that even though we may condemn it and issue resolutions and so forth, somebody who is not shamed by resolutions can continue to act with impunity and those international norms begin to erode.
Read: Obama: 'World cannot stay silent to such barbarism'
President Putin gave out mixed signals: the Russian leader said the country may be prepared to take part in a UN-sanctioned action, something Obama has not signalled he will wait for, but that he remains to be convinced that the Assad regime was responsible for the chemical attack.
Expert findings from the Russian Foreign Ministry said the chemical weapon used in the chemical attack are similar to ones made by a rebel group.
More: Putin's position on Syria remains largely unchanged
Back in Washington, the influential US Foreign Relations committee voted to approve a draft resolution for a military strike, despite Senator McCain's criticism that the mandate was "too narrow."
Read: US Senate committee votes for military action in Syria