Wayne Rooney posts injury pictures on Facebook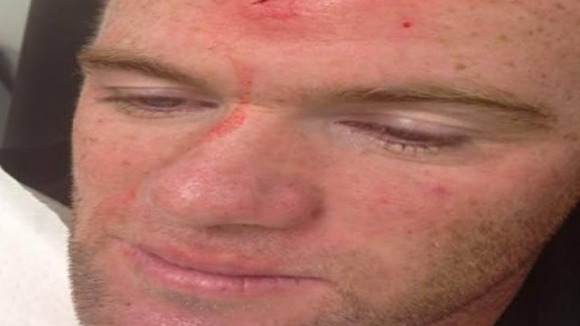 Wayne Rooney has posted pictures of his head injury on Facebook after receiving criticism for pulling out of England's World Cup qualifiers.
The striker will miss the crucial games against Moldova and Ukraine after he suffered the nasty wound in training for Manchester United ahead of their weekend defeat at Liverpool.
United's manager David Moyes believes the 27-year-old will be out for three weeks while England teammate Theo Walcott likened the injury to "something out of a horror film."
However, some people, who recalled Terry Butcher's bloodied-head during a World Cup qualifier in 1990, questioned whether Rooney needed to be out for that long.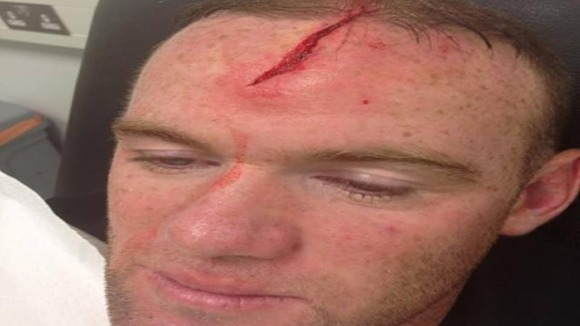 The England striker responded to the criticism on his official Facebook page:
Some people seem to be questioning my commitment to the England squad and the fact I had to pull out of the two games.

There's nothing I would like more than to be helping the lads in the qualifiers.

I'm sure people will see from these images the reason why I won't be able to play.
– Wayne Rooney

Arsenal and England forward Walcott said the gruesome injury was "not going to help with his looks".

Pointing to a 500ml water bottle on the top table of his press conference at St George's Park on Tuesday, Walcott said of the injury:
It's about that big. It's a very big gash.

It is not a nice sight to be honest. It is not going to help his looks I wouldn't think.

It's not very nice to see. It's like something out of a horror film.
– Theo Walcott

Rooney's international and club teammate Michael Carrick also jumped to his defence, saying that if there was anyway the 27-year-old could play he would.

The midfielder was part of the training session where Rooney got injured and felt the criticism was harsh.
We know what he is like. If there was a way of playing he would. It is easy for people to look at the past and compare with what has gone on but every situation is different.

It was a bad cut. It wasn't nice to see.

It is unfortunate but it is something that we will deal with.
– Michael Carrick

Liverpool striker Daniel Sturridge, who has scored five goals in his first four games this season, was the likely option to replace Rooney for the Moldova match on Friday but he has been unable to train properly due to a groin injury he aggravated.