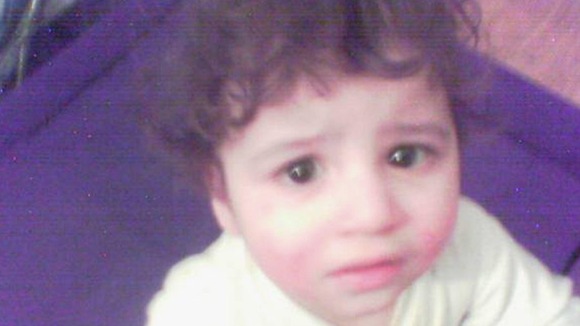 A mother has gone on trial after police discovered the mummified remains of her 4-year-old son in a cot in her bedroom, nearly two years after he died.
Bradford Crown Court heard that Hamzah Khan starved to death in Decemeber 2009, but his body was not discovered until September 2011. His mother, 43-year-old Amanda Hutton, denies manslaughter, as Damon Green reports.
Warning: This reports contains distressing details from today's court case.
Hamzah Khan's body was found, nearly two years after his death, in clothing intended for a baby aged six to nine months because, "his growth had been stunted," prosecutor Paul Greaney QC claimed.
It had been stunted because he was malnourished over a lengthy period and that state of affairs resulted in his death. In short, he starved to death.

How had a child starved to death in 21st century England?

Amanda Hutton failed to provide her child with the nourishment that he needed to survive and, in so failing, she killed him.
The jury heard Ms Hutton was guilty of manslaughter by gross negligence on two grounds:
Failing to feed him adequately
Failing to seek medical assistance for him
The court also heard how Ms Hutton ordered pizza within hours of her son's death and continued to claim child benefit for him.
More: Jury hears mother 'claimed benefits for starved boy'
Julie Roberts, forensic anthropologist, said Hamzah's development was "comparable to a child aged between one year and 18 months."
More: Body of 'starved 4-year-old like a child of 18 months'
Mr Greaney said that in police interviews Hutton and Hamzah had become particularly unwell on December 14, 2009.
She said the next day she went to the supermarket to consult a pharmacist but got a phone call to come home. Mr Greaney said:
She explained that when she returned Hamzah was near to death. She sought to revive him but to no effect.

She described placing Hamzah into his cot, making plain that she had treated his body with dignity, and it is right that we should observe that Hamzah's body was found, it was found with a teddy.
Ms Hutton denies the charges against her, and the case continues in Bradford.