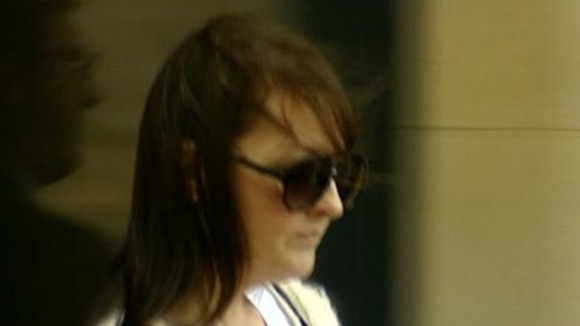 The jury in the trial of Amanda Hutton, the mother charged with starving her son to death after his mummified corpse was found in a cot in her room almost two years later, heard how the child appeared "stick thin" in his final days.
The witness described the impact of Ms Hutton's alcoholism and drug abuse, and said her son Hamzah Khan, who died aged four-and-half, was fed rarely, and left to live in filth.
Damon Green reports from Bradford Crown Court.
Warning: This report contains distressing details from today's court case.
The witness, who cannot be named for legal reasons, visited Amanda Hutton's home the night before he died, and vividly described the decrepit living conditions.
She said the house was filled with bags full of mouldy rubbish and faeces, with soiled toilet paper in the bathroom, and vomit crusted with mould in the bath tub. The court heard that each room in the house was filled with:
Empty bottles, crisp packets, snotty tissues and lots and lots of cans.
Ms Hutton was described as an alcoholic who was sick regularly, and could not walk well.
She had a lot of alcohol and she had three bottles a day. And she smoked a lot. It was vodka, Smirnoff and something. She drank more vodka than water. She was always being sick.
More: Mother 'drank more vodka than water'
She said Hamzah was "stick thin" and had great difficulty walking. The witness described how Ms Hutton would hit and curse at her child, and how she found the four-year-old wrapped in blankets underneath an upturned drawer.
She said she gave his emaciated body a hug when she found his face down, but was careful not to hold him to tight.
I knew it was Hamzah because he was skinny and his baby suit. I didn't squeeze him so I wouldn't break his bones. He was that thin.
The four-year-old would only be fed once a day, according to the witness, and described him looking "appalling" the night before he died.
He looked all crusty and pale. He looked really skinny, stick thin. He didn't get fed much.
Read: Court hears 'starved' 4-year-old 'didn't get fed much'
The court also heard from Ms Hutton's brother, who said his sister was a victim of domestic violence and had had her teeth knocked out by her husband, Hamzah's father Aftab Khan.
He also told the jury that his sister had been a habitual cannabis used for more than a decade, and had become a heavy drinker in recent years.
He said she was "knocked about" by her husband, who knocked her teeth out on several occasions.
He said he would visit her and find her with "less and less teeth."
More: Court hears mother was 'beaten up by her husband'
Ms Hutton denies manslaughter, and the trial continues tomorrow.