Eight men have been arrested over a £1.3 million theft by a gang who took control of a Barclays Bank branch computer system.
Police said they are investigating how the money was stolen, saying the gang used a simple device to control multiple computers.
There was a similar attack recently on a branch of Santander and the Bank of England says cyber crime is now the industry's biggest threat.
ITV News Business Editor Laura Kuenssberg reports:
Detective Superintendent Terry Wilson, head of the Metropolitan Police's central e-crime unit, said:
This was a highly-organised criminal network with each individual filling a specific role.

All criminal networks have a head and we very much believe we have now apprehended our 'Mr Big' as part of this operation.

We believe this has put a major dent in this alleged criminal network's ability to commit cyber-crime in this country. We believe this was a top-tier criminal network.
The gang is believed to have targeted Barclays "control room" in Seymour Place, Marylebone, central London. The theft is being dealt with by the same investigation team that is dealing with the Santander attempted robbery.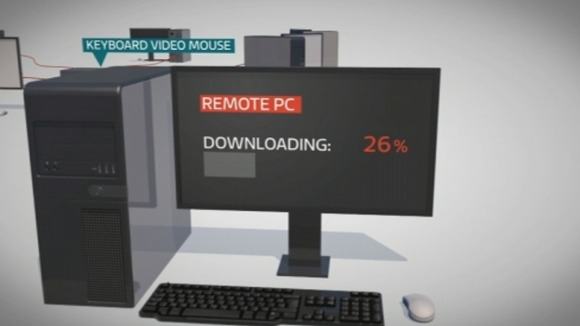 It is alleged that the gang tried to use the KVM gadget to take control of all the computers at a branch of Santander in Surrey Quays shopping centre in south east London. The attempt failed and the Spanish bank said they were unable to steal any money.
Barclays has no higher priority than the protection and security of our customers against the actions of would-be fraudsters.

We have been working closely with the Metropolitan Police following a security breach at our Swiss Cottage branch in April 2013. We identified the fraud and acted swiftly to recover funds on the same day.

We can confirm that no customers suffered financial loss as a result of this action.
– ALEX GRANT, BARCLAYS MANAGING DIRECTOR OF FRAUD PREVENTION