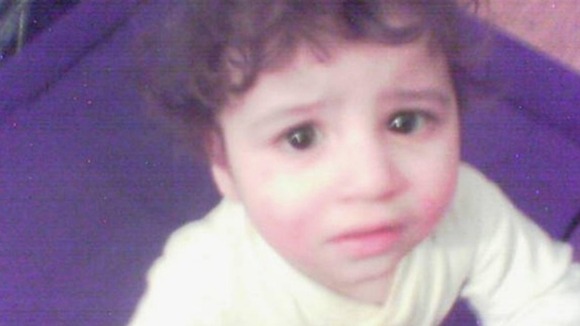 The brother of Hamzah Khan told a jury he saw the four-year-old eating the contents of his own nappy.
Qaiser Khan, who was giving evidence today at Bradford Crown Court on the third day of the trial of his mother Amanda Hutton, also said Hamzah's buggy "stank" of urine.
ITV News correspondent Damon Green reports:
The 22-year-old said that the young boy "appeared neglected" during his visits to the house between December 2008 and March 2009.
Read: Witness describes filthy home of 'stick thin' boy
I was only at the house for a couple of days. The buggy smelled so bad of urine I got disinfectant and cleaned it out.
– Qaiser Khan

Stephen Meadowcroft QC, defending, asked Mr Khan whether he was exaggerating what he had seen at the house because of his bad relationship with his mother.

Mr Khan denied that was case and said when he was 13-years-old he was made to drink "mouldy, off milk" by his mother as punishment.

Ms Hutton would spend a lot of her time drinking, disappearing upstairs "for most of the day", Mr Khan told the jury.

Read: Mother of 'starved' boy 'drank more vodka than water'

Hamzah's body was found in a cot in his mother's bedroom by police in September 2011.

The four-year-old died 21 months before he was found, Bradford Crown Court was told.

Ms Hutton denies the manslaughter of her son.

Earlier, the court heard how Hamzah's father demanded police check on his son a year before his death from alleged malnutrition.

Aftab Khan, 45, was being interviewed by Bradford police in December 2008 over an alleged assault on Hamzah's mother.

Read: Court hears mother was 'beaten by her husband'
All I want you to do is check Hamzah. Get a doctor to check how undernourished and how neglected he is. Check him and then you'll see.
– Aftab Khan

The interviewing officer told him to contact social services, to which Aftab Khan replied: "I'm going to."

He said of Ms Hutton's treatment of the child, who died a year later:
I've told her time and time again there's something wrong with that child.
– Aftab Khan

The court heard that despite Aftab Khan's promise to contact social services over the health of his son, there is no record that he did so.