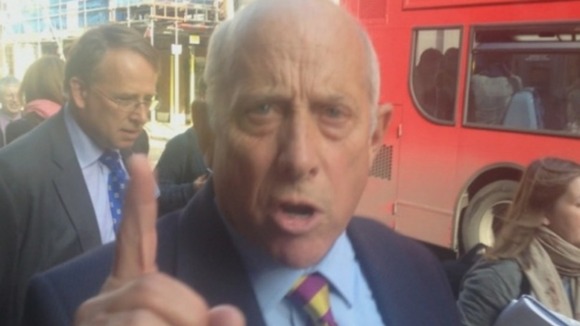 The Ukip MEP Godfrey Bloom has a history of gaffes and controversies - the latest leading to his suspension from the party.
'You're all sluts'
Mr Bloom had the party whip removed after calling women "sluts" during a conference fringe event.
The Huffington Post UK has an audio recording of the incident.
I made a joke and said 'oh well you're all sluts' and everybody laughed including all the women.
– Godfrey Bloom MEP

Made a purposely outrageous joke among friends which was taken as joke by women present

It shd not b taken out of context & misrepresented by a hostile press

He tried to justify the use of the term to Newsnight's political editor, Allegra Stratton:

Bloom to @bbcallegra "You're untidy, you leave your kit lying around, has your mother never called you a slut?" #newsnight

Hitting a reporter with a party conference guide

After making his remarks, he then hits Channel 4 News political correspondent Michael Crick over the head with a copy of his party's conference guide and calls him a "racist" after being asked why there were no ethnic minorities on the front of the brochure:

Warning a reporter he could 'get a wee tap over the head'

When questioned by ITV News Calendar political correspondent Paul Brand about the incident, the MEP said he could "get a wee tap over the head with a rolled-up umbrella" if he followed a similar line of questioning to Mr Crick.

Watch the interview on ITV News Calendar.

But this is not his first time he has made gaffes, some offensive.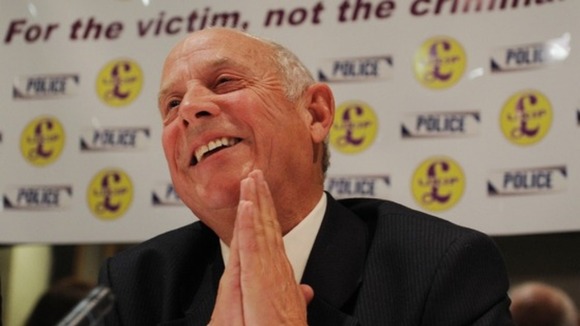 Cameron was 'the sort of chap I used to beat up'
In August, he told the Daily Telegraph the Prime Minister was "pigeon-chested; the sort of chap I used to beat up".
'Men are better at reversing than women'
In the same interview he attempted to ridicule female drivers.
"I said that generally speaking men are better at reversing than women; almost nobody could dispute that," he said.
'Bongo bongo land'
Earlier that month he was recorded telling activists that Britain should not be sending foreign aid abroad.
He said: "How we can possibly be giving a billion pounds a month when we're in this sort of debt to bongo bongo land is completely beyond me."
"What's wrong with that? I'm not a wishy-washy Tory.

I don't do political correctness.

The fact that the Guardian is reporting this will probably double my vote in the north of England.
He later issued a statement in which he said he "sincerely regrets any genuine offence" caused.
Ejected from European Parliament for Nazi jibe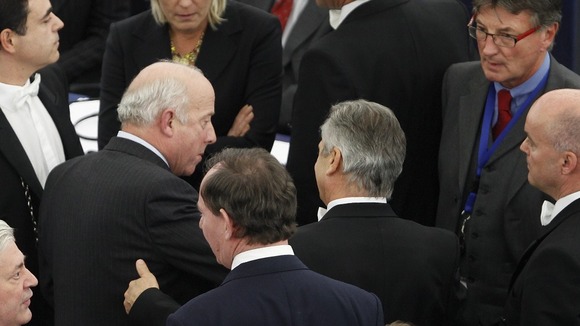 In November 2010 he was expelled from the chamber in Brussels for directing a Nazi slogan at a German colleague.
Mr Bloom said: "Ein Volk, ein Reich, ein Fuehrer" - one people, one empire, one leader - as Martin Schulz was making a speech.
He stood by his words, saying he was describing the leader of the socialist group in the parliament, as "a national socialist".
Women 'don't clean behind the fridge enough'
On his first day in the European Parliament, in 2004, he said: "No self-respecting small businessman with a brain in the right place would ever employ a lady of child-bearing age."
He added: "I just don't think they [women] clean behind the fridge enough".
Ironically, this phrase was reused by a female Ukip delegate today, prompting the MEP to refer to women as sluts, as "an outrageous joke", he claims.
Ukip leader Nigel Farage said MEP Godfrey Bloom has ruined the party's conference after he called women "sluts" at the fringe event:
Read more: Ukip leader Nigel Farage says Bloom has ruined Ukip party conference