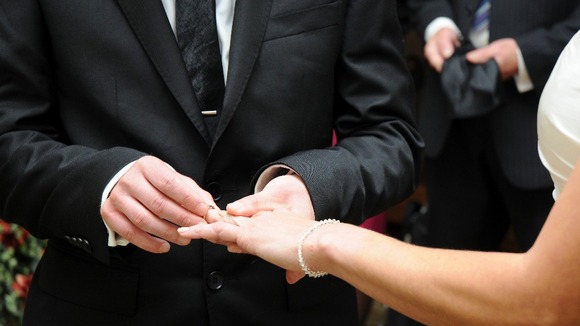 Married couples will receive a £1,000 transferable tax break from April 2015, the Prime Minister has revealed.
Under the Conservatives' plans, one member of a married couple or civil partnership will be allowed to transfer £1,000 of their tax-free personal allowance to their partner.
The party said the scheme will be worth up to £200 a year for four million couples, including civil partnerships.
Couples will receive the benefit at the end of the tax year in 2016.
ITV News correspondent Romilly Weeks reports:
Writing in the Daily Mail, Mr Cameron said:
From April 2015, if neither of you are higher rate taxpayers, you will be able to transfer £1,000 of your tax free allowance to your spouse.

In effect, if you pay the basic rate of tax and your partner doesn't use all of their personal allowance, you'll be able to have some of it. Most couples who benefit will be £200 a year better off as a result.

And of course this will be true if you're gay or straight – and in a civil partnership or a marriage.
The scheme will start in April 2015 and will apply to the 15,000 couples in civil partnerships. They will receive the benefit from the scheme at the end of the tax year in 2016.
A Conservative Party explanation of the marriage tax break proposal gave an example of the type of couple that would benefit:
Clare and Chris are a married couple. Chris works full-time and earns £25,000 a year, while Clare works three days a week and earns £9,000 a year.
By 2015-16 they would both be expected to have a tax-free allowance of £10,200.
They go online and register for the new marriage tax allowance. Clare transfers £1,000 of her allowance to Chris.
In 2015-16, this means Chris now has a tax-free allowance of £11,200, while Clare's is £9,200 – and saves the couple £200 a year.
Shadow chancellor Ed Balls responded to the plan, saying that women would "lose out" under the proposals:
With David Cameron, the truth is always so different from the spin - 2/3 of married couples won't benefit from his tax break (nor widows)..
Of course it's insulting that £3.85 a week would persuade anyone to get married. And the money will be paid mainly to men not women..
However, the shadow chief secretary to the Treasury said that Mr Cameron's plan to help married couples with a £1,000 transferable tax break will not benefit two-thirds of married couples.
Tory high command will hope the move will appease backbenchers, who have repeatedly called for the policy to be enacted, as well as reach out to voters as the party heads to Manchester for its annual autumn gathering.