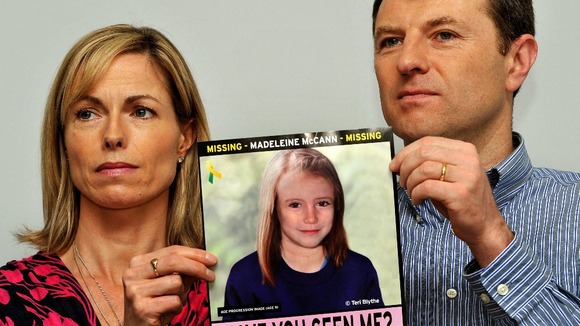 More than six years after Madeleine McCann disappeared her parents Kate and Gerry say they remain optimistic of finding her. His comments come as police prepare to launch a fresh appeal on Crimewatch aimed at shedding new light on to the circumstances of her disappearance.
Next weeks appeal is aimed at locating new witnesses, and talking to people who have previously not come forward.
The Metropolitan Police said they believe a vast log of mobile phone traffic could prove key in finding out what happened to Madeleine, as Juliet Bremner reports.
Gerry McCann said the family had been encouraged by the new evidence in the case, and recent cases over the last few years of children and young women being found after having been taken and held for very long periods of time.
We've always had hope. As parents we won't accept Madeleine is dead until we see clear evidence that that is the case.
Praising the work of the Metropolitan Police he said he hoped the new appeal would lead to new information.
We're encouraged. We're optimistic that new pieces will be uncovered which will fill in parts of the jigsaw.

We are confident the appeal will bring new information on Madeleine, to find her and those that have taken her.
He expressed his dismay at the role of the media in hampering the search for his little girl, in particular for their reprinting of Portuguese coverage of the case which criticised the family.
He said he thinks key witnesses failed to come forward in the early days as they thought Madeleine was already dead.
If people believe a missing child is dead, they are not going to look for her, or they are not going to come forward with new information.
Scotland Yard revealed that since launching its own investigation, 41 people of interest have been identified, including 15 UK nationals, up from 38 people of interest including 12 UK nationals established in July.
A large but "manageable" list of phone numbers identified as being present in Praia da Luz - though not necessarily used to make phone calls - has been drawn up by detectives with a "significant" number unattributed to any named person. Police officers are now able to create a log showing calls being made at the time of Madeleine's disappearance.
The latest appeal will also be broadcast in Holland and Germany.
The Portuguese investigation officially closed but authorities there are backing the Scotland Yard inquiry and officers from both countries will work together in pursuing new leads.
The Metropolitan Police now has a team of six Portuguese detectives based in Faro who are carrying out inquiries on its behalf.