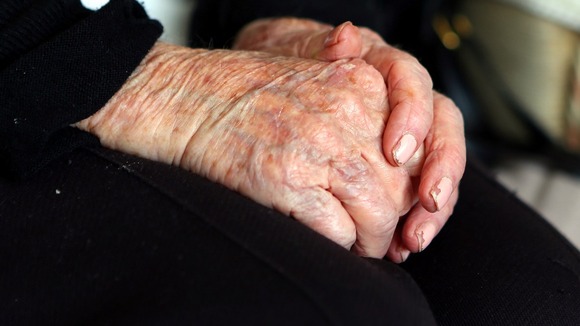 Elderly and disabled people who receive "flying" care visits are being forced to choose between staying thirsty and going to the toilet, a charity has warned.
Leonard Cheshire Disability said that the number of 15-minute care visits are on the rise, despite "major concerns" the short visits "deprive" people of essential care.
Data obtained from 63 local authorities by the charity found that three-fifths now commission 15-minute visits.
A new report by the charity estimates that the proportion of visits that last 15 minutes or less has risen by 15% over the past five years.
Dan Rivers reports:
Voilet and Henry Smith are an elderly couple totally reliant on outside help but carer, Jan Trowse, has up to 14 appointments a day and said it is often impossible for her to do everything that is required in the 15 minute slot.
We feel under pressure; they feel under pressure. They don't want to ask us to do the things they need doing, because they know that we're constantly battling against the time.
Care minister says 15 minutes 'unrealistic'
But social care leaders said that sometimes 15 minute visits are "fully justified".
The Association of Directors of Adult Social Services (Adass) argued that sometimes the short visits are "fully adequate".
Clare Pelham, chief executive of Leonard Cheshire Disability, called for care visits to be at least 30 minutes long.
Every day, many disabled and older people in the UK receive personal care, it is disgraceful to force disabled people to choose whether to go thirsty or to go to the toilet by providing care visits as short as 15 minutes long.

Most of us need 40 minutes to get up, get washed and dressed and have breakfast in the morning. None of us would want our family and friends to receive 'care' visits as short as 15 minutes.

We should demand better from our councillors and remind them that disabled people are real people with real feelings and should be treated as they themselves would wish to be treated - with kindness, with care and with respect.