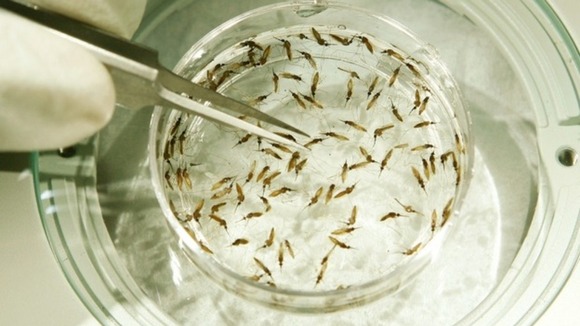 The world's first vaccine against malaria could be less than two years away after a successful trial by a British drug makers GlaxoSmithKline(GSK). Test results appeared to show it had cut the number of cases in African children.
ITV News Africa Correspondent Rohit Kachroo reports:
The results of the trial demonstrated the most clinically advanced malaria vaccine candidate - RTS,S - continued to protect young children and infants from clinical malaria up to 18-months after vaccination.
Over a year and a half, the vaccine was shown to almost halve the number of malaria cases in children aged five to 17-months at first vaccination.
The study of more than 15,000 infants and young children found the vaccine reduced by around a quarter the malaria cases in infants aged six to 12-weeks at first vaccination.
We're very encouraged by these latest results, which show that RTS,S continued to provide meaningful protection over 18 months to babies and young children across different regions of Africa.

While we have seen some decline in vaccine efficacy over time, the sheer number of children affected by malaria means that the number of cases of the disease the vaccine can help prevent is impressive.
– CHIEF EXECUTIVE OF GSK SIR ANDREW WITTY

Malaria fact file.
Malaria is the leader killer among young African children
Transmitted via the bites of infected mosquitoes
Caused an estimated 660,000 deaths in 2010, mostly among African children
Leading cause of death among African children under the age of five
Symptoms include fever, headaches, nausea and muscle pain
Can be prevented with artemisinin-based drugs (ACTs), mosquito nets and spraying insecticide
In many parts of the world, parasites have developed drug resistance
ACTs are more expensive than older, less effective treatments which remain in wide use
Given the huge disease burden of malaria among African children, we cannot ignore what these latest results tell us about the potential for RTS,S to have a measurable and significant impact on the health of millions of young children in Africa.

While we want to be careful about not getting ahead of the data, this trial continues to show that a malaria vaccine could potentially bring an important additional benefit beyond that provided by the tools already in use.
– Dr David C Kaslow, vice president of global health charity PATH

While the potential vaccine was welcomed Oxfam warned that to be successful any new potential vaccine is made affordable to people in poor countries.

Oxfam's health policy adviser Anna Marriott said previous cases show that companies can make drugs affordable to African governments, which can then provide treatments free of charge to poor people.