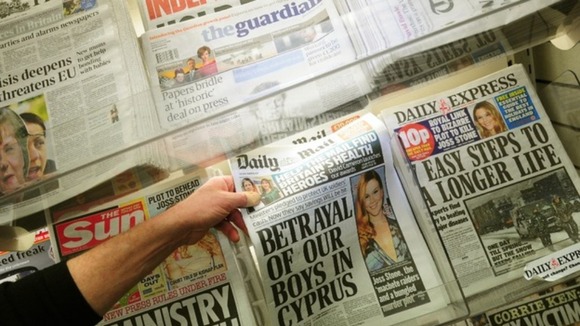 Newspaper industry proposals for a Royal Charter to establish a new system of self-regulation have been rejected, Culture Secretary Maria Miller told the House of Commons today.
Mrs Miller said that the industry plans did not comply with some of the "fundamental principles" of the Leveson Report on press regulation, including on independence and access to arbitration.
ITV News' deputy political editor Chris Ship reports:
The cross-party proposals for a charter agreed by the Conservatives, Liberal Democrats and Labour and backed by Parliament will now be put forward for approval at a "specially-convened meeting" of the Privy Council on October 30th, she told MPs.
The Culture Secretary said:
We have an opportunity to take a final look at our charter, an opportunity to bring all parties together and ensure that the final Charter is both workable and effective.

We have a responsibility to make sure that what we do here will be effective and stand the test of time, so we need to make it the best we can.

We have a once-in-a-generation opportunity to get this right.
Campaign group Hacked Off welcomed the "long overdue" rejection of the industry's charter and called on newspapers to accept the cross-party deal.
Asked what would happen if the press decide to go it alone, the group's director Brian Cathcart said: "If that happens we end up with another Press Complaints Commission, another failed non-regulator, we end up with more abuses and scandals.
"I'm afraid we'll all be back here again if that happens ... and in between there will have been more unfortunate victims of press abuses."