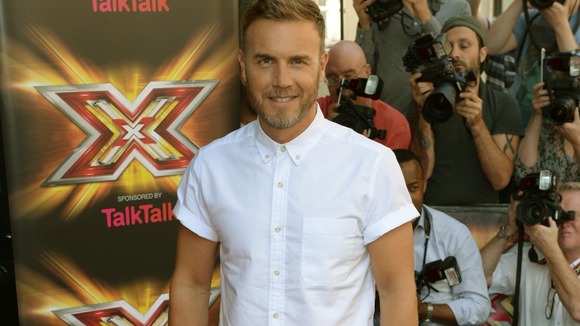 The X Factor turned back time tonight with a 1980s extravaganza - but judge Gary Barlow was looking to the future as he confirmed live on air that this would be his final series.
The 12 acts - the girls, the boys, the groups and the over-25s - all took to the stage for the first of the live shows.
When Barlow's three-piece group Rough Copy closed the show with In The Air Tonight, the Take That front man confirmed his departure.
I'm so glad for my last year on the show, I get to mentor you.
– Gary Barlow

His confirmation follows speculation that this would be his final series as a judge on the show.

The group proved to be the "surprise of the night" for Louis Walsh. He said: "There has to be a gap in the market for a band like this."

Sharon Osbourne described it as a "perfect performance", while Barlow said they were "everything I want in a group".

After a "flash vote", Shelley Smith, a 34-year-old single mother, who sang How Do I Get You Alone, learned that she will be in tomorrow night's sing-off. After her performance, Walsh said: "Hey Shelley, you gave it welly!" He added: "It was cheesy but it was good cheese."

Nicole Scherzinger said she had "made a total transformation", but Barlow said he thought that rather than give an 80s song a modern twist, she was "stuck in the 80s".

Meanwhile, prison officer Sam Bailey, 35, belted out I'm Your Lady and received a very enthusiastic response from the judges.

Barlow said: "That was totally off the clock. You're in a complete league of your own."

Meanwhile Scherzinger said: "I am speechless right now. I don't even know what I just witnessed and what I just watched."

Walsh told her she "hit every single note", while Osbourne said she had "goosebumps all over".

Student Tamera Foster, 16, sang Ain't Nobody which Barlow liked so much, he said: "You have the X Factor."

Walsh called her an "out of the box pop star", while Scherzinger said she is a "force to be reckoned with".

Sam Callahan, 19, sang Summer Of 69 and Walsh said he was "like a little Bryan Adams".

Osbourne said she believes he is the "full package", but Barlow and Scherzinger were critical.

Barlow said his vocals were "quite poor", while Scherzinger said he was "not the strongest in the competition".

Band Kingsland Road burst into a performance of Wham!'s I'm Your Man which was packed with choreography.

Osbourne said they created a "great atmosphere", while Walsh said: "That really worked."

Scherzinger said she was "very impressed", and Barlow said: "There's nothing out there like you at the moment."

Supermarket worker Abi Alton, 19, sang Livin' On A Prayer while playing a white piano.

Walsh said: "What an amazing interpretation of a Bon Jovi song." The Irishman added that her version could be a hit.

Barlow said: "During your performance you could have heard a pin drop in this room."

A-level student Hannah Barrett opened the show with a rendition of What's Love Got To Do With It, and Osbourne said she had a "rich, powerful voice".

Nicholas McDonald, 16, sang True by Spandau Ballet - a song from a decade the teenager thinks is like a period drama, Barlow said. The Take That frontman said: "You've got everyone on your side."

Band Miss Dynamix - singing Jump - did not overly impress the judges in that they wanted to see them have more fun on stage. Osbourne said: "You need to get into it more."

Student Lorna Simpson, 26, from London, sang So Emotional and Walsh said she had a "very powerful disco voice".

Scherzinger said that while she had trouble remembering who she was, her performance left her thinking: "This is a diva in the making."

Student Luke Friend, 17, sang I'll be Watching You, and afterwards Barlow said his voice was "an acquired taste".

Osbourne said: "Your voice isn't the greatest but you don't need it with that face."

An act will be voted off in tomorrow night's results show.

Watch the X Factor Results tonight at 8pm on ITV.

For the latest news and backstage gossip visit the X Factor website