Vicky Pryce: Prison had a 'positive' effect not 'a lasting, negative impact'
Vicky Pryce, the ex-wife of disgraced former Cabinet member Chris Huhne, told ITV News that prison had a "positive" effect and not "a lasting, negative impact."
Ms Pryce and the former Liberal Democrat minister were both jailed for eight months after she took speeding points for him.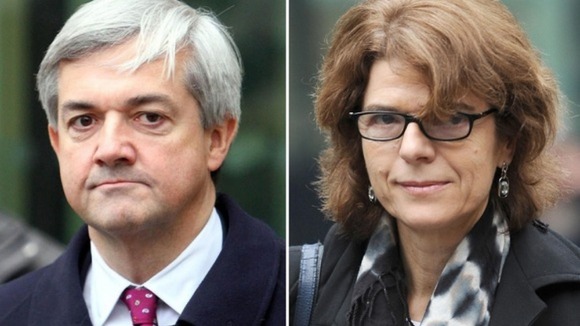 Asked about Mr Huhne's role in the points scandal, his ex-wife said she had "no view at all" and she did not publicly apologise for her actions as the former minister previously did.
However, Ms Pryce said she accepted her punishment.
She told ITV News political correspondent Romilly Weeks that in prison she became "institutionalised quite quickly" and that she learned a lot about herself.
I wouldn't say I was suited to prison life, I would say that I survived prison life.

I know that I'm flexible, that's the interesting thing, I think everyone discovers something about themselves when they're being put in a difficult environment.

I knew from the beginning that I would survive it and I knew that I was flexible enough to go through this without it having a lasting, negative impact on me but with it ending up having a positive [effect], in the sense of being able to use that [experience] to help make this case.

But, I was maybe quite institutionalised quite quickly, in the sense of being quite prepared to accept a regime, knowing what it meant.
– Vicky Pryce

Ms Pryce said her experience had been a "huge eye-opener" and now she was looking forward to "life after" prison.

She added that she would "never been able to survive without support of family and friends."

Speaking of her experience in East Sutton Park prison near Maidstone, she said "you learn how to navigate through the system to survive".

Asked what her biggest regret was, Ms Pryce said: "I have to admit I decided that whatever has happened is in the past and there's no point on dwelling over it and I have to look forward".

Ms Pryce was speaking to launch her new book, Prisonomics, the royalties from which are going to the charity Working Chance, which finds work for offenders reaching the end of their sentences and ex-offenders.

The book looks at the cost of keeping women in prison and how the system works.
The number [of women in prison] has doubled in the 20 years but what happens is, firstly, it costs quite a lot to keep people in prison, particularly women because they have extra problems.

They go in with mental problems or drug problems and they get depressed and they need to be dealt with so it's quite costly.

The second thing is there are huge indirect costs to society of sending women to prison, their children are taken into care...and then you have the problem of children themselves who tend to end up not in employment and cost society quite a lot.
– Vicky Pryce

Ms Pryce also spoke about how other prisoners were convinced that she would end up on celebrity television shows.

Asked whether this was something she would now pursue, Ms Pryce said she would not take part in a reality television show but she had been asked to appear "on everything".

She said Have I Got News For You, Celebrity Big Brother and I'm A Celebrity had approached her but she rejected all of the offers.