Wounded US soldier's salute 'seen around the world'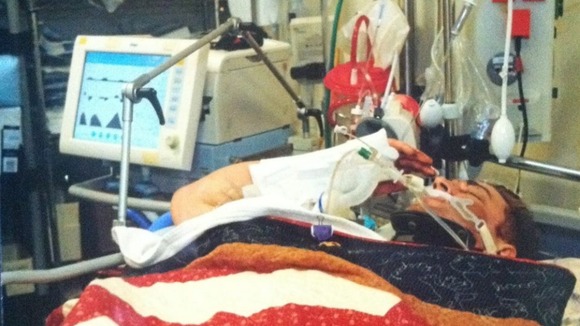 A soldier badly wounded in Afghanistan shocked his army colleagues by saluting his commander as he lay seemingly unconscious in his hospital bed.
Josh Hargis, a soldier in the US 3rd Ranger Battalion, was wounded last week in an attack in Afghanistan that left four other members of his team dead. He was awarded the Purple Heart for his injuries, in a small ceremony in a military hospital. As his military commander stood over him to thank him for his work, he astounded the room by raising his arm in a salute.
His commander was so moved, he sent the picture to his wife Taylor at home in Ohio.
In an emotional post on her Facebook page, Mrs Hargis described what it was like to receive the picture from her husband's commander, who described the salute as "the single greatest event" he had witnessed in his ten years in the army. Quoting his commander, Mrs Hargis described what happened:
During the presentation the Commander publishes the official orders verbally and leaned over Josh to thank him for his sacrifice.

Josh, whom everybody in the room (over 50 people) assumed to be unconscious, began to move his right arm under the blanket in a diligent effort to salute the Commander as is customary during these ceremonies.

Despite his wounds, wrappings, tubes, and pain, Josh fought the doctor who was trying to restrain his right arm and rendered the most beautiful salute any person in that room had ever seen.

I cannot impart on you the level of emotion that poured through the intensive care unit that day.

Grown men began to weep and we were speechless at a gesture that speak volumes about Josh's courage and character.
Since Taylor Hargis posted the image, it has has been shared on social media and military support sites thousands of times across the world.
US military site Guardian of Valor described the picture as "the salute seen around the world" in their tribute.
This is a true warrior! No matter the pain we know Josh is in, he renders the most beautiful salute you will ever see.

We will call this "The Salute Seen Around The World!" as it should be, and it should show what a true Warrior's Spirit looks like.
In an interview with NBC today, Taylor said she was proud of her "badass husband"
I am a proud wife of an army ranger, and he is badass, and he is strong and he is the epitome of what an American and a soldier is.