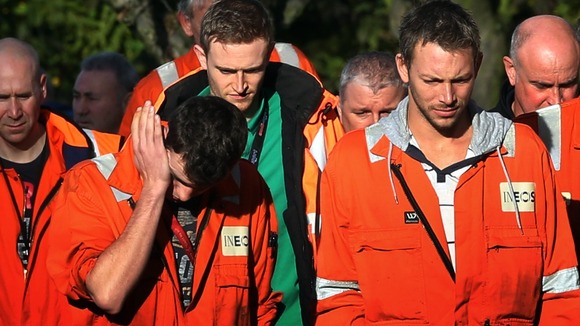 Thousands of workers around Falkirk are facing unemployment after shareholders of the Grangemouth oil refinery made the shock decision to close the petrochemical part of the plant following a bitter dispute with the union over pay and conditions.
The petrochemical part of the plant employs around 800 workers out of a total workforce of 1,370. The jobs of an estimated 2,000 working for contractors and other firms supplying the site with goods and services are also at risk. Richard Edgar reports.
Plant owners Ineos halted production last week at the plant, which produces 210,000 barrels of oil per day, providing the majority of Scotland's fuel.
The Unite union said around 680 of the staff's 1,370 workforce rejected the companies proposals, which inlcude a pay freeze for the next two years, a removal of bonus up to 2016, a reduced number of working hours and the ending of the final salary pension scheme.
Swiss owners Ineos blamed Unite for the decision to close, saying they were advising their members to "reject any form of change."
Read: Ineos blames union for closure at Grangemouth
In a letter explaining the decision, Calum MacLean said:
This is a hugely sad day for everyone at Grangemouth. We have tried our best to convince employees of the need for change but unsuccessfully. There was only going to be one outcome to this story if nothing changed and we continued to lose money.
The AA warned petrol prices could rise as a result of the closure, whilst the Energy Secretary Ed Davey said he was saddened to hear of the closure, and urged Ineos to continue dialogue with the workforce.
While respecting Ineos' right to make this decision, it is regrettable that both parties have not managed to negotiate a fair and equitable settlement that delivers a viable business model for the plant ...
The Chief Secretary to the Treasury Danny Alexander said that the impact of the closure was "very significant" but that he hoped the decision was not final.
Meanwhile the leader of the Scottish Labour party accused the owners of behaving in a "Dickensian" way, that "cannot be tolerated. He said:
It cannot be right in 21st century Scotland that an employer demands that a worker accepts cuts to their wages, their pensions and their conditions, and are told to either agree to them within 96 hours or face the sack.

That is a Dickensian way for an employer to behave and cannot be tolerated.