Wembley quiz: Find out if you beat the NFL cheerleaders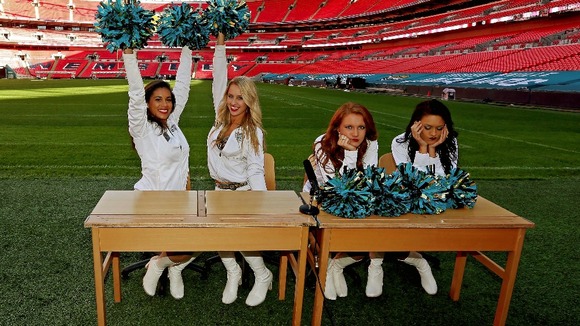 Four NFL cheerleaders were quizzed about the history of Wembley Stadium as the Jacksonville Jaguars prepare to host the San Francisco 49ers there this Sunday.
Kayla, Caitlin, Jessica and Talitha - split into two teams - scored nine out of 10, resulting in a tie-break.
Did you beat them?
Wembley is the largest stadium in the United Kingdom. How many seats does it have? Answer: 90,000
In 2013, Wembley celebrated a special birthday. How old is the stadium? Answer: 90 years
After its closure in 2000, the new Wembley was opened in 2007. Who officially opened the stadium? Answer: HRH Prince William
The Wembley Arch is 133 metres high and can be seen from all over London. Which London landmark could you roll underneath the arch? Answer: The London Eye
Hodgson's England recently qualified for the 2014 FIFA World Cup by defeating Poland at the stadium. What was the score? Answer: 2-0
In terms of history and pageantry, the FA Cup Final is the equivalent of the Super Bowl in England. Who upset mighty Manchester City to win the 2013 FA Cup Final? Answer: Wigan Athletic
Wembley has always been famous for hosting the weird and the wonderful. In 1975, which American stunt driver jumped over 13 London double-decker buses? Answer: Evel Knievel
Wembley is famous for being one of the most iconic music venues in the world. Which group are playing three nights there in summer 2014? Answer: One Direction
Including for referees/umpires, and to accommodate the NFL, how many dressing/locker rooms does Wembley have? Answer: Six
How many regular season NFL matches will be held at Wembley Stadium in 2014? Answer: Three
With the NFL now approaching their eighth game at Wembley, we thought it was only right to test the cheerleaders on their Wembley knowledge - and they did really well.
– Adam Burrage, Wembley Stadium Tours Manager