Rough Copy steals the show on X Factor Big Band night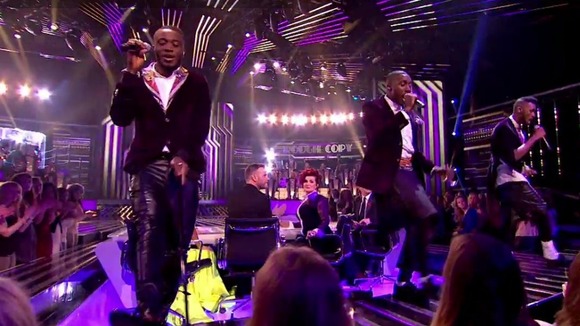 Strobe lights and garish get-ups gave way to side partings and swing as the X Factor ditched last week's disco theme in favour of the big band sound for tonight's live episode.
Backed by a 30-piece band, it was Rough Copy who stole the show with a contemporary twist on a classic Ray Charles number, as some of the acts appeared to struggle to win over the judges.
The trio, performing with canes and crimson blazers, swaggered around the stage as they produced an energetic rendition replete with leather trousers and tight choreography.
Both Scherzinger and Walsh tipped the trio to make the final, with the latter adding:
You are slick, snazzy - I love the style. You have to make the final.
– Louis Walsh

Opening the programme, the normally bespectacled Abi Alton split the panel with her rendition of Frank Sinatra's That's Life, which she dedicated to her father.

Louis Walsh said:"It didn't go too far for me. I think you can do so much better."

But Nicole Scherzinger replied:
She was sass-tastic tonight. You let go, you had so much fun with it, girl. You delivered tonight.
– Nicole Scherzinger

Abi you looked like a million bucks kid you were Sass-tastic and you SUNG tonight, you sure did your Dad proud!

Sam Bailey, the sole representative in the Over-25s category, also borrowed from Old Blue Eyes' back catalogue, taking on New York, New York.

Gary Barlow described her performance as "unbelievable", while Walsh went further in his praise, saying: "For me, you are the one to beat in the competition."

Sam Bailey is unstoppable, but please, she needs your votes! Vote, vote, vote! @thexfactor #XFactor

Sixteen-year-old Nicholas McDonald's version of Ella FItzgerald's Dream A Little Dream Of Me earned him the moniker "Baby Buble" in reference to the Canadian crooner Michael Buble.

Sharon Osborne said:
You embraced big band week fantastically. You totally put yourself into it.
– Sharon Osborne

Devon teenager Luke Friend, with his trademark unkempt hair scraped back into slick ponytail, sang Moondance by Van Morrison. But he did not enjoy a vintage evening. Barlow told him: "I was disappointed in that tonight. This style just doesn't suit you at all."

Both he and former Pussycat Dolls singer Scherzinger said Friend needed to sing "behind the beat", rather than ahead of it.

But the mood lifted when Hannah Barrett performed the James Brown classic It's A Man's Man's World. Osborne told her: "We had more of that lovely hot chocolate voice of yours. We can never get enough of you."

Walsh added: "You're doing something right."

Tamera Foster, who was seen weeping after being in the bottom two last week, impressed tonight when she took on Julie London's Cry Me A River - even if Osborne once again stumbled over pronouncing the 16-year-old's name.

Barlow said her potential was "stratospheric", while Walsh described her as a "little diva", and said: "You've got this thing called 'star quality'."

Tamera you came out SCH-WINGING tonight! Like Gary said "your potential is stratospherical"

Sam Callahan brought the curtain down on the show, with a cover of Dean Martin's Ain't That A Kick In The Head.

The judges gave him "A for effort", while Walsh, dipping into the show's bag of catchphrases, added: "You're like a little Fred Astaire."

Watch the X Factor Results tomorrow night at 8pm on ITV.

For the latest news and backstage gossip visit the X Factor website