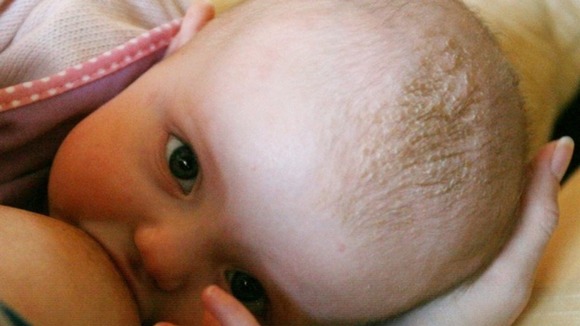 New mothers are to be paid to breastfeed their babies as part of a research project examining whether or not uptake rates will increase if they are offered financial incentives.
The scheme, which will see women being given vouchers for Matalan, John Lewis and Mothercare, as well as supermarkets, is examining ways to boost low rates of breastfeeding.
The new study will be trialled in Derbyshire and South Yorkshire in areas where breastfeeding uptake rates are low.
ITV News correspondent Martin Geissler reports:
Researchers at the University of Sheffield said women in the UK feel stigmatised by breastfeeding, despite being aware of the "breast is best" health message.
Despite numerous attempts to encourage new mothers to breastfeed their babies, rates remain stubbornly low in parts of the UK:
34% of UK babies are breastfed at six months
Only 1% of babies are exclusively breastfed at this stage - despite recommendations from the NHS that breast milk contains all the nutrients a baby needs at this stage of development
Under the scheme, If the mothers breastfeed their children for a full six months they will receive £200 shopping vouchers - half for supermarkets and half for high street stores.
The vouchers, which are being funded by the National Prevention Research Initiative, will be distributed in five stages of £40 each.
ITV News viewers said a change in attitude towards breastfeeding in public may be more effective in increasing breastfeeding rates instead of the use of financial incentives.
Here are a selection of their views:
It is not cash incentives breastfeeding Mums need - it is tolerence from everyone else. More places need to encourage breastfeeding not look down their noses as if it is something disgusting and unnatural.
– Diana Rae
Surely if it was about money, more women would breast feed, its free! No need for expensive baby formula, sterilisers, bottles etc. It's also quicker, its instant! No need to make bottles and wait for them to cool.

Obviously something else is putting women off. We should look at our attitudes towards breast feeding in public. Not make those women who cant breast feed feel even worse.
– Rebecca Hunt
I think this is terrible to be honest. This money should be used to provide support for the mothers who want to breastfeed. 90% of women who stop breastfeeding do so before they wanted to. This is usually down to lack of support and information!
– Amy Dalrymple